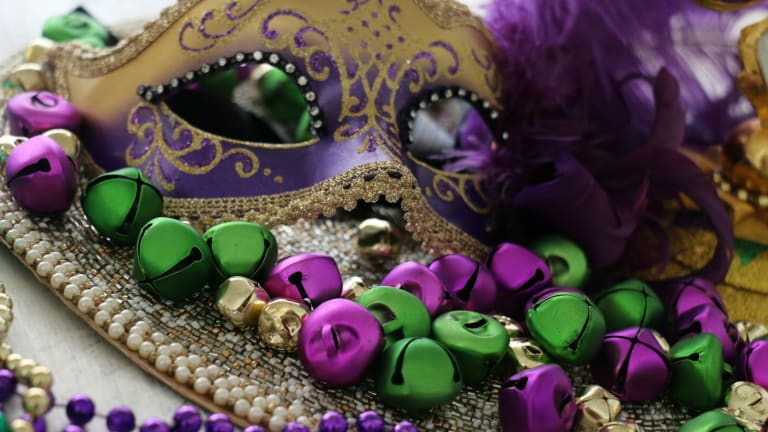 Mardi Gras Table for Two
Celebrate masquerade style with our festive Mardi Gras tablescape...
Did you know Mardi Gras is next week? In celebration of it, I thought it would be fun to set up a Mardi Gras table for two at my house. I've only been to New Orleans once, but I've always wanted to go back...And I've always wanted to go back wth the hubs. It's such a magical, romantic town. Consider it on our "just the two of us" travel bucket list, but since we have no such trip without the kids planned at the moment, I thought it would be fun to create a mini Mardi Gras celebration at home. And since I thought you too might be in need of a little romance, I decided to share my Mardi Gras table for two ideas with you...Valentine's Day doesn't own all things romance. Just sayin'. 
Mardi Gras Table for Two Ideas
If you're short on time and want a one stop shop for all your Mardi Gras party needs, head to Pier 1 Imports. They have SO many festive Mardi Gras ready goodies and I had no trouble settling on a few to help me create my Mardi Gras tablescape. Hey, we're busy moms. Am I right? If we don't have to run all over time town to a million different stores to collect our decorating must haves, why should we?! 
On that note, here's what you'll need to create your Mardi Gras table for two...I started with beaded placemats (3 total), one for each place setting and one for my centerpiece. For said centerpiece, I used a masquerade mask, fleur de lis decor (this jester would be cute too, you just need something with a little height) and I sprinkled some festive bells vase filler around them, along with several strands of Mardi Gras beads. What's a Mardis Gras table without beads?! Plain white dishes and gold aluminum tumblers finished the look.
So, are you ready to make your own Mardi Gras table for two? I knew you would be. You're honey will love it. I promise! Destination romance, here you come...
We were not paid for this post. We did receive samples.