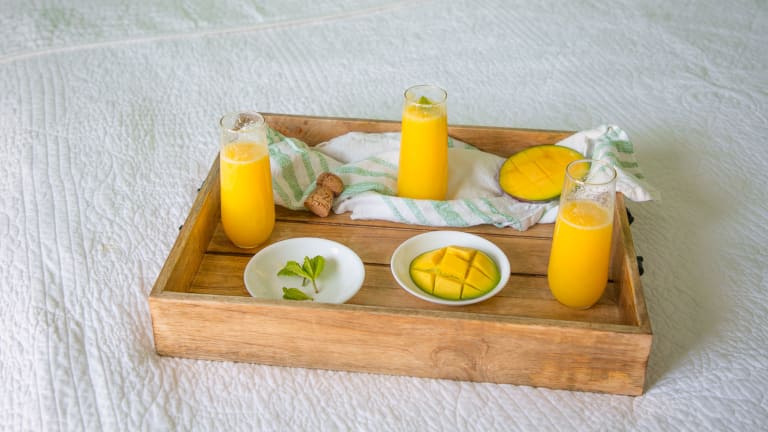 Mango Bellini Cocktail
We're updating this classic Italian cocktails with sweet mango puree.
With the end of summer upon us, we want to celebrate the last days of freedom. To celebrate the warmer days, this week's cocktail is another brunch favorite of mine.  A mango bellini. It's also great as part of "breakfast in bed." You know, whenever that actually happens. Is there anything better than a delicious cocktail and breakfast in bed though?  It really does make me quite happy.
Related: Bourbon slush recipe the perfect summer drink
The Bellini is an Italian classic. In it's purest form it begins with a puree of fruit and Prosecco or Italian extra-dry sparkling wine. Sound like a mimosa? Not quite, but definitely similar. A mimosa has French origins and uses champagne and orange juice with occasional amounts of Grand Marnier to accentuate the citrus flavor it's famous for.
Both are amazing brunch or Mother's Day cocktails. Better yet, serve either of these to your mom in bed! After you let her sleep in and make her breakfast, of course. Moms, be sure to leave this page up so your husbands can catch the hint.
To make this Bellini, I chose mango puree as the fruit component. Right now the markets are flooding with them, and they are available at great prices. If you do not have access to fresh mangos yet, frozen mango chunks puree beautifully as well. Just be sure to thaw them first.
Puree the mango in a blender or use an immersion blender. Once you work all the chunks out, spoon the puree into a champagne flute or glass of your choice. No judgments if you want a bigger glass! Fill the rest of the glass with Prosecco and garnish with fresh mint.
Mango Bellini Cocktail Ingredients 
makes 6 cocktails
3 mangos, pureed 
1/8 cup water 
2 sprigs fresh mint, for garnish
1 bottle Prosecco
Mango Bellini Cocktail Instructions
Puree mango and water until smooth.  
Spoon puree into a cocktail glass and fill with Prosecco.  A ratio of 1 part puree to 3 parts Prosecco is typical.
Garnish with fresh mint.
Happy Sipping
MORE COCKTAILS IDEAS FROM MOMTRENDS
Be sure to check out these cocktail ideas:
PIN IT!
Use Pinterest to save your favorite cocktail ideas. Be sure to follow our Drinks board here.
This is not a sponsored post.