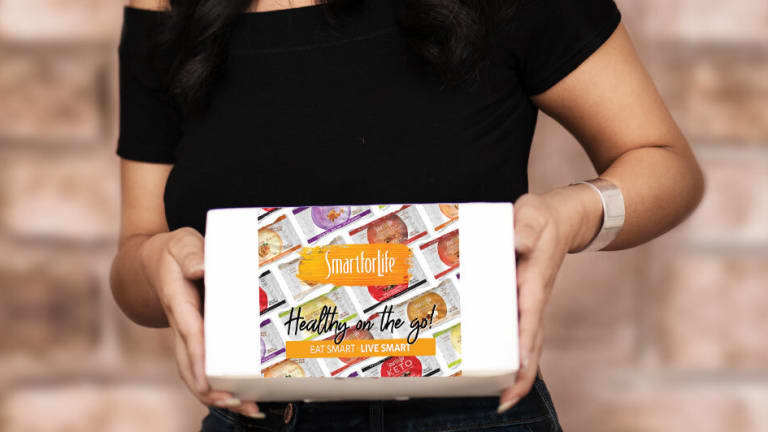 Making Healthy Decisions with Smart For Life
Smart for Life is a comprehensive weight loss and weight management program that creates healthy food you and your family will love.
Lockdown life wasn't easy for moms. If we were lucky enough to avoid COVID, we faced dozens of other hurdles. In addition to working remotely and overseeing school, many of us had our workout routines severely altered. According to the New York Times, many Americans packed on 2 extra pounds a month. That means a year into this pandemic, we're looking at 20 pounds of added weight. Nicer weather and new vaccines mean we can start moving freely, which will help. But this mama is looking for a boost, and I'm making healthy food decisions with Smart for Life.
Save 10% on your order of Smart for Life here. Use code SMARTTEN
Smart for Life Solutions
Smart for Life is devoted to helping women (and families) feeling great. Whether that means losing weight or helping you eat smarter to maintain your weight, they have solutions.
Smart for Life is founded by a bariatric doctor who has created nutritional products that can be used on the go, you can even diet with the products and start seeing results immediately! Their comprehensive weight loss and weight management program helps improve the way people eat, the way they feel, and the way they live by offering snacks and meal replacements packed with protein and fiber. Each product is doctor designed and scientifically formulated to naturally suppress your appetite.
Smart for Life Weight Loss program
If losing some of the COVID weight is your goal, Smart for Life has a Weight Loss program designed to keep you on track of your health goals in a healthy and satisfying way. Smart for Life cookies and snacks are exactly what your body and your taste buds crave.
Smart for Life's Doctor-Designed products are low calorie, nutrient-packed, hunger-suppressing, and taste like dessert! They also offer products that are: 
Smart for Life Weight Loss Kit 
The diet kids at Smart for Life are customizable and allow you to choose what flavors of cookies you want. To understand the diet check out smartforlife.com/howitworks. I recommend the 3 Week Weight Loss Kit ($139.99). Every order includes a Smart for Life diet guide that will help you lose weight safely. You'll discover how eating cookies as a meal replacement will help you to lose weight. The kits include cookies that are specially designed by weight loss professionals as a proactive tool that helps prevent hunger before it occurs.
Smart for Life cookies are perfect for moms--they couldn't be more convenient. Each cookie is 180-calories and acts as a nutritious and tasty meal replacement. All products are Made in the USA in an FDA and GMP Facility and third party safety tested for purity. 
About the Product:
Doctor-designed balanced formula to control hunger
Fiber to help you feel full & for optimal gut health
Low sugar to prevent cravings
Made with premium, natural ingredients to avoid unnecessary toxins
Made in the USA in an FDA and GMP registered facility
100% Satisfaction Guarantee
The Smart for Life 21 Day Weight Management Kit with Assorted Cookies includes 126 great tasting, healthy appetite-suppressing cookies:
7 Packs of Blueberry Cookies (6 cookies per pack)
7 Packs of Chocolate Chip Cookies (6 cookies per pack)
7 Packs of Oatmeal Raisin Cookies (6 cookies per pack)
Daily Snacks from Smart for Life
Maybe losing weight isn't your main concern. If you want to stay fit and are looking for the right snacks you'll love these products. Smart for Life's products are the perfect snack or meal replacement to stay on track with your goals.
Smart for Life's protein bars not only satisfy your sweet tooth cravings but they'll keep you feeling full and satisfied for hours. The next time you find yourself in a pinch, whether you're on a long zoom call or on a finally on an adventure out in the real world, reach for your Smart for Life protein bar. 
Healthy on the Go Kits
Smart for Life's easy packaging makes it simple to snack smarter. I often skip breakfast and get hungry around 11. Instead of grabbing a muffin or piece of banana bread, I snack on a bar that helps to satisfy me. I'm sampling the Smart for Life packages made for snacking.
The Healthy on the go! ($29.99) includes 6 great flavors:
Low Sugar S'mores

Keto Triple Choco Crisp

Low Sugar Cinnamon Pecan

Low Sugar Strawberry & Cream

Low Sugar Luscious Lemon

Low Sugar Caramel Almond

Low Sugar Peanut Butter
Final Thoughts on Fueling Your Body
While I can't get you free babysitting and a personal trainer who will come to your door, I can help you resource foods that will make it easier to get the energy you need to keep moving forward. Using systems like Smart for Life make sense. Try a few products, then subscribe to your favorites so you'll be able to make a great snacking decision, even when you are stressed and crunched for time.
We'll all get through this together. Let's share what works and keep cheering each other on.
Shop smart here and get started with Smart for Life.
This is a sponsored post.