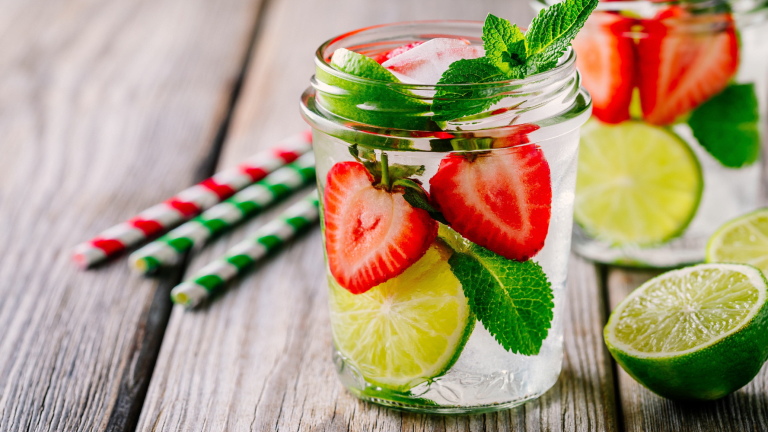 Make Your Own Fruit-Infused Water
We're all told to drink eight glasses of water a day, eat healthy, stay hydrated, and get exercise. Yeah, yeah, yeah... we know the drill. Still, staying on top of all these wellness to-dos is easier said than done when you're on the go and busy and prioritizing everyone else's needs but your own. 
When I was in Big Sky, Montana on a blogger trip sans kids, I felt surprisingly amazing. Totally energized. Awake, happy, and fueled. Maybe it was the mountain air, perhaps it was the outdoor exercise, or potentially even the uninterrupted eight hours of sleep every night (hallelujah!). But you know what I really, really think made me feel at my total peak?!... The water. Since we were at a much higher altitude, I was super conscious of staying hydrated and pretty much had a water bottle or glass in my hand at all times.
At every table, lobby, and resort corner, Big Sky had large dispensers with fruit-infused water; and so I'd move from one to the next, trying the different subtle flavors and getting all my required H2O (and then some).
Fruit-infused water is something you can easily make at home in big or small batches to encourage more frequent water drinking. Whether it's a few lemon wedges and mint leaves or something more complex, there are lots of thirst-quenching options... Here are a few flavorful favorites! 
Mojito Water via Sugar and Soul
Strawberry-Lime Detox Water via Watch What U Eat
Kiwi Blackberry Water via The Country Chic Cottage
Grapefruit Rosemary Water via Tasty Yummies
Berry Watermelon Water via Positive Med
Don't forget a great reusable water bottle. I love the Disney line from Tervis. These great tumbles keep drinks cold and help the earth!
Want more from Momtrends?
1. The Importance of Staying Hydrated
2. Why You Should Drink Alkaline Water
This is not a sponsored post.