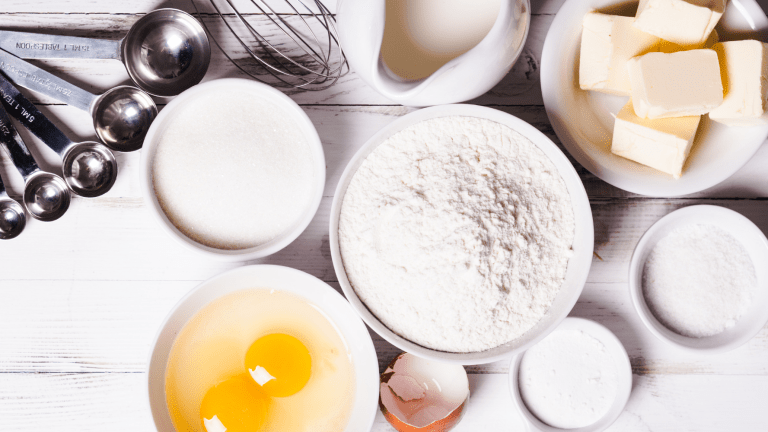 Magnolia Bakery Vanilla Cake Dupe
I like my desserts simple. Do not overcomplicate things -- give me a regular chocolate chip cookie or a plain pound cake, and I'm a happy camper.
My absolute favorite dessert of all time is a Magnolia layer cake - vanilla on vanilla. If you've ever visited the famous New York City bakery, you know that they are known for their incredible cupcakes. The cake is dense and moist and not too sweet, and the buttercream is out of the world creamy deliciousness. 
I used to get Magnolia once a week when I lived in the city, and even more often when I started commuting into the city regularly (there's one located inside of Penn Station). But since I now mostly work from my home in Long Island, I rarely get to indulge in a Magnolia treat. 
So I've been on a quest for years to find a dupe. But, until very recently, I was failing in my pursuit. It turns out it take months of at-home quarantine-ing for me to get the fix I needed. All that time, I was looking for a good alternative bakery when I should have just looked in a recipe book. I ordered myself the Magnolia Bakery cookbook and adapted it a bit after a few tries. Here is how to make the ultimate vanilla-on-vanilla cake. Relatively easy, super delicious, and way less expensive than a trip to the city. Enjoy!
Cake Ingredients
1.5 cups of self-rising flour
1.5 cups of all-purpose flour
1 cup of salted butter, softened
2 cups of sugar
4 large eggs
1 cup of milk
1.5 tsp of vanilla extract
Steps
In an electric mixer, cream butter until smooth.
Slowly add the sugar until thoroughly mixed through.
Add the eggs, beat well.
Add half of the flour, and beat until incorporated.
Add milk and vanilla, and beat.
Add other half of flour, and beat until everything is fully incorporated again.
Scrape down batter, and give it one last beat on medium.
Add batter to a greased 9x12 cake pan. 
Bake on 350 degrees for approximately 45 minutes. Keep checking it might need more time!
Frost with buttercream  - 1 cup of unsalted butter, 6 cups of confectioner's sugar, 1/2 cup of milk, 1.5 teaspoons of vanilla extract. Mix in electric mixer on slow; don't over-beat or it will be too fluffy.
Want more from Momtrends?
1. The Ultimate Banana Bread Recipe
This is not a sponsored post. All opinions are our own.