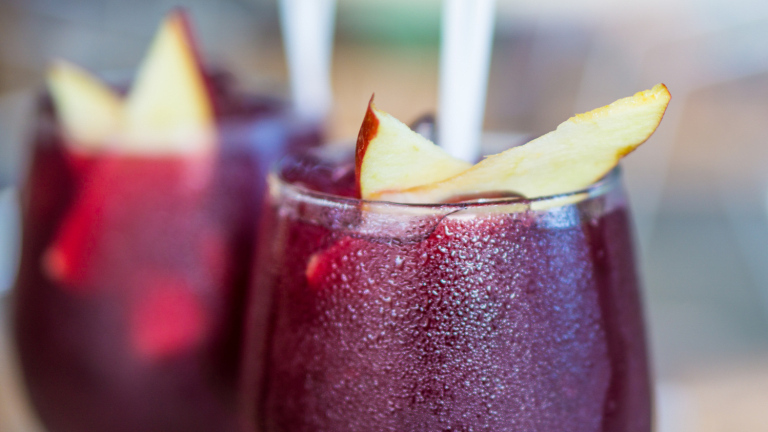 Low Calorie Winter Sangria Recipe
This red wine sangria recipe is perfect for sharing. With just a few ingredients, you'll want to whip this up all winter!
Tis the season to come inside, warm up from the cold and open a tasty bottle of red. This holiday you don't have to wait for a fancy party invite to pour yourself a glass. Skinnygirl Cocktails make tasty, well-priced reds that are reason enough to celebrate.
Low Calorie Wine Options
Skinnygirl Cocktails has eight great-tasting, low-cal options. For a smooth, easy to drink red, try the Skinnygirl Pinot Noir. There are notes of rich fruitiness combined with nuts that is the perfect thing for a night in front of a roaring fire or a night in front of your favorite reality TV program. At just 100 calories per serving, you can have your cake and eat it too, or at least a nibble of the leftover Halloween candy.
I'm also sip the Skinnygirl California Red Blend, it's so drinkable. There are hints of caramel flavor, but it's also delightfully uncomplicated. This is the type of wine that works with everything on your weekly menu from leftovers to a yummy slow cooker meal. There's nothing heavy about this wine. Sip, enjoy, repeat.
Low Calorie Winter Sangria Recipe
Check out our how-to video here:
Wine "rules" were made to be broken. Like the one that says Rosé is done around Labor Day. Skinnygirl California Rosé is a bright and fun wine to serve if you think reds are too heavy. This has a lighter lemony flavor. Feel free to break the wine "rules"–you can enjoy rosé in the winter.
While unwinding with the family is great, so is gathering your girls. This winter recipe is perfect for sharing!
Warm Winter Sangria Recipe
Ingredients (5 servings):
2 chopped apples
Handful of cloves
4 cups ice
1 shot of Apple Syrup
1 Bottle Skinnygirl Pinot Noir
Warm Winter Sangria Directions
Chope fruit
Mix ingredients in a large pitcher. 
Mix. Let sit for a few hours to have the flavors blend. Serve with a straw. Enjoy!
MORE WINE LOVERS FUN FOR MOMS
PIN IT!
Use Pinterest to save your favorite cocktail ideas. Be sure to follow our Wine Time board here.