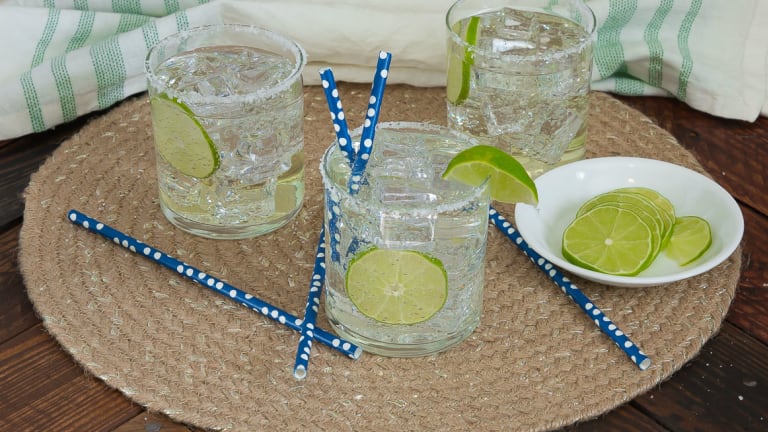 Low-Cal Margarita
Do you love margaritas?  I know I sure do!  Especially during the warmer months.  Something about them just scream sunshine and fun.  
I like my margaritas on the rocks.  The frozen version just doesn't appeal to me for some reason. I love daiquiris so I'm really not sure why.  
Sadly, that sour mix contains quite a lot of calories. So, I made this lower calorie version which has quickly become my favorite margarita for the summer.
It is fizzy, fun, and super quick to whip up. All traits I adore in my cocktails.
This particular cocktail is even tummy friendly. I don't know if you have a hard time with the sour mix but it really hurts my tummy. Heartburn central! Since we bypass the sour mix all together in this recipe, I am left heartburn free. That is always a plus in my book.
To make this version of a margarita you will need to gather limes, club soda, sweetened lime juice, triple sec (optional), and, of course, your favorite bottle of tequila.
You will also need ice and a shaker.
Fill the glasses and shaker with ice. Add 1 part tequila, 2-4 tablespoons of lime juice (depending on the size of your glass), and triple sec. Shake vigorously and pour into your glass. Now add 3 parts club soda to the glass. Garnish, serve and enjoy.
Ingredients
1 part tequila
2-4 tablespoons of sweetened lime juice
3 parts club soda
ice
splash of triple sec (optional)
coarse salt
1 lime, sliced
Instructions
Run a lime along the edge of your glass and salt the rim.  
To a shaker add ice, tequila, triple sec, lime juice, and shake
Add ice to your salted glass 
Pour ingredients from the shaker into a glass
Top off with three parts of club soda
Garnish with a lime wedge and serve chilled
Happy Sipping!