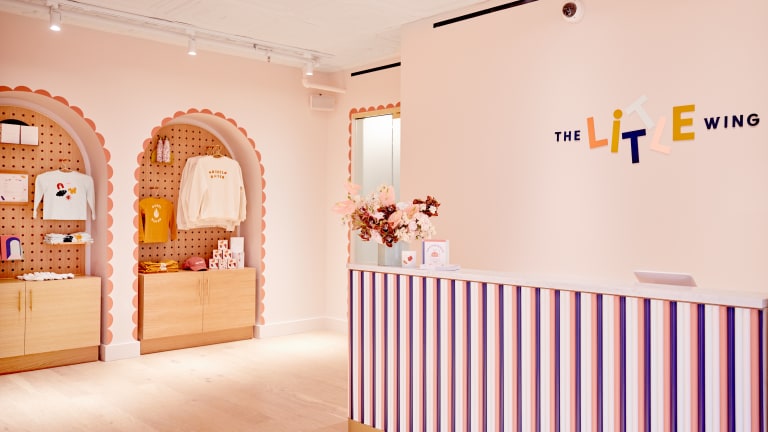 Publish date:
Little Wing Opens in Soho
Crate and Barrel x The Wing Team Up For The "Little Wing"
Crate and Barrel x The Wing Team Up For The "Little Wing"
I got to take a sneak peek at The Little Wing, the newest amenity from the savvy ladies at The Wing. The Little Wing opened up in Soho, NYC and is a support system for working moms, or moms who are just trying to get something done! It's a perfect next step for the company that is all about building community and helping women soar. 
From the start I loved the concept of The Wing - women supporting women as they try to grow businesses. It's a gorgeous remote workspace with city locations across the USA. I've been a member since 2018 and love how I can pop in and work for a few hours at a time. There's great Wifi, inspiring decor and an energy that is infectious. I've networked with great women through The Wing and am always telling other women about it. This is a great next step, because so many of us have to do the childcare juggle. 
Room Tour of the Little Wing
Crate and Kids worked with The Wing to design the very first "Little Wing." The space was designed by The Wing's in-house interiors team, with a collection of the latest furniture and toys curated by Crate and Kids to create an inspiring, happy space to allow kids to learn, grow and explore.
For The Little Wing, Crate and Kids looked for pieces that were both beautiful and functional - modern and minimalist. With foundations in neutral tones and natural elements in durables styles meant to last, the space also incorporates pops of color and mixed materials to create an elevated environment that encourages imagination and play. 
Crate and Kids furniture focuses on functional design. A few of my favorite pieces from the space include the Lion Rocker and the Treehouse Set. These are the types of toys my kids would've played with again and again.
The space should stay pretty for a nice chunk of time. There's no food allowed in the space and there's a no-shoe policy. Need a snack? They will be opening a grab-and-go food option at The Wing's Perch and children are allowed in The Wing with supervision.
There's a sweet little library of children's books provided by Storytelling Labs, a Brooklyn bookstore.

New Victory Announces a New Season of Shows
We know you're busy planning picnics and summer outings, but we wanted to let you know that The New Victory just announced their new season and it looks fantastic. We thought you'd like a sneak peek of what's in store! Each year the New Vic theater brings culture to tourists and ...read more
Fun Ways to Discover Venice Italy with Your Family
Greetings from Italy wear the gelato is rich, the clothes divine and the scenery is inspiring. Now that I've been to this fine city in the north of Italy, twice, I've amassed a list of favorites to share. These are some fun ways to discover Venice, Italy with your family. ...read more
How the Little Wing Works 
The Little Wing is a childcare resource for moms who are members of the Soho Wing or All Access members. It's the first of its kind and I really hope it works. Back when my girls were little I could've really used a safe space like this to grow Momtrends. A place where I could get a few hours of work done and not have to scramble for a sitter or stress about the nap schedule.
It's an on-demand service for busy women who are trying to build something. Too many women stumble on the childcare front. Trusting someone in your home is tricky and expensive.
What's Offered at The Little Wing
Babysitting: In a pinch, to take a conference call without background noise. This is a great option. Members can book a two-hour session of sitting for $25. Trained "Wingsitters" will help your child have safe fun in the space while you work at the Wing Soho. Babysitting is for kids ages 1-6 and will max out at 6 hours a week. The sitting is scheduled through an app called Sawyer. Note: Babysitters will not change diapers or provide snacks. This is a great rate considering I pay $27/hour for babysitting in NYC. Babysitting will be a 8:2 ratio. For more on national babysitting rates and trends, check out this post.
Enrichment Classes: For moms who are new to town or are simply looking for some mommy and me fun, these classes are perfect. The Little Wing is partnering with local experts and children's programming teachers to dream up the activities. Enrichment classes are $28 each and explore topics such as music and movement, art, yoga, and early literacy development. Some are drop off and some are mommy and me. Classes will have a 10:1 ratio.
Support Groups: Find your people through The Little Wing community. This space will offer access to parenting experts, groups and workshops on a range of topics from sleep training to returning to work after parental leave.
Open Play: Dealing with a rainy day and a small apartment of simply need a change of scenery? Then swing on by The Wing Soho for some weekend fun. The Little Wing is open to members and their families (yes, dads too!) on weekend mornings for a chance for your tots to play.
Note: Costs for offerings at The Little Wing are in addition to Wing membership fees - apply for membership today!
For more information about The Little Wing click here https://www.the-wing.com/the-little-wing/
This Little Wing Opens in Soho feature is not sponsored.