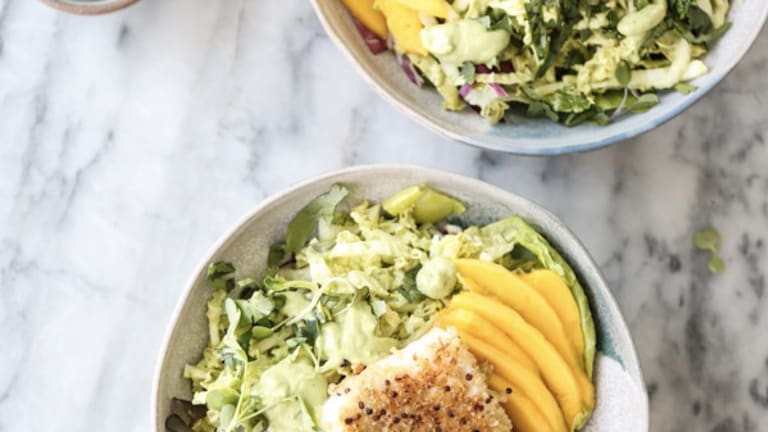 Light and Bright Spring Recipes
Ring in the Season With a Delicious Seasonal Dish
I'm so excited for the first day of spring. It was a long, hard, cold, and brutal winter. And being in my, I don't know, millionth month of pregnancy didn't help either--I've been feeling huge and helpless and utterly exhausted. But a new greener leaf is turning soon--and the infusion of fresh air and bright sunshine and warmer temps is going to revive my spirit and soul... I can feel it in mah bones and in this big belly of mine! Of course, I'll also have a newborn to tend to... but se la vie!
I've been relying on crockpot recipes these last few months--hearty stews, heavy pastas, and satisfying soups. And they've done me well, warming me in the winter, filling my relentless appetite, and making it super easy to feed my family. But with spring on the horizon, I'm ready to switch things up a bit and try a few lighter, brighter, fresher recipes--heavy on the crispy, green veggies and lean proteins.
I've rounded up a few of the most delicious spring-inspired dishes--full of color, texture, and taste. Bon appetite--and enjoy the sunshine! It's coming so soon.
Herb Spring Potato Salad via Kitsunetsuki Kitchen
Pasta Primavera via Whole and Heavenly Oven
Spring Pot Pie via Coley Cooks
Spring Couscous Salad With Basil Vinaigrette via Little Spice Jar
Mango Fish Taco Bowls via Feed Me Phoebe 
Garlic Shrimp With Zucchini Noodles via Cook Eat Paleo
Chicken Enchiladas Verde via Evolving Table
Chicken Caprese Bake via The Seasoned Mom
Spring Pea Soup With Mint via Purewow
PIN IT!
Need a refreshing drink to go with your spring meal? This champagne ginger beer cocktail will make the perfect pairing.
This is not a sponsored post.