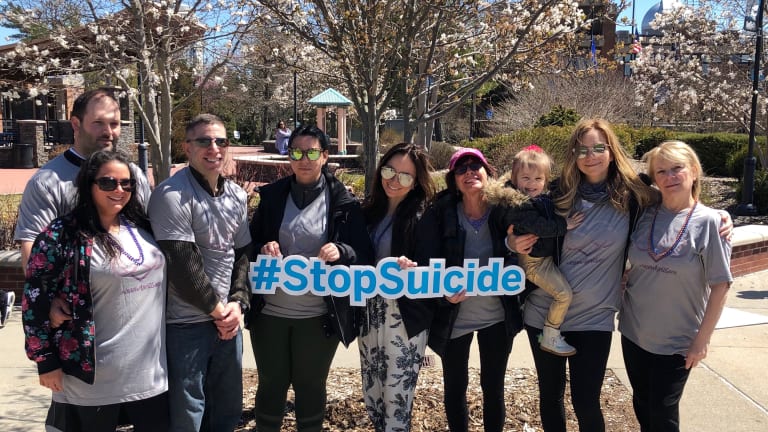 Let's Talk About Mental Illness
An Open Conversation--Plus, a List of Resources
If you are in crisis, please call the National Suicide Prevention Lifeline at 1-800-273-TALK (8255), or contact the Crisis Text Line by texting TALK to 741741
It can be hard when you're in the middle of the storm [with a depressed friend] to remember that there was a time before, and hopefully an after, this miserable state. But it's essential to remind yourself — and the person you're trying to help — that people do emerge from depression. Because they do.
A beacon of hope in the form of a quote from a recent New York Times article offering expert advice with a hearty dose of empathy. 
I wanted to write this post—or something like it for a while now. I had drafted something last month to mark Mental Illness Awareness month, but then I abandoned it. The topic was too daunting and I felt out of my league. I am no doctor, no psychologist, no expert. I'm just a mom, a daughter, a sister, a niece, a friend. A listening ear. I am someone who has experienced gut-wrenching loss because of suicide. 
I'm aware of potential triggers—so I'll spare you the details; short of this: suicide took my beloved aunt's life. Lest you think I mixed up my words, I phrase it this way with intention. 
In the early days and weeks and months after her untimely death I laid awake at night questioning her thought process and wondering why—it was a deep dark rabbit hole. I oscillated between feelings of hurt and anger and compassion; I occasionally even used the word "selfish." But severe depression had made my aunt but a shell of her former self. And, in time, I realized that she thought she had no alternative*. The demons were real and and relentless; she didn't want to hurt the ones she loved most, she just believed it was the only way to end an absolutely agonizing pain. 
*But there is help, and you can walk out of this darkness. If you are in crisis, please call the National Suicide Prevention Lifeline at 1-800-273-TALK (8255), or contact the Crisis Text Line by texting TALK to 741741
Last week, mental illness claimed two incredible talents--two people who seemingly had it all: fame, fortune, and opportunity. It's brought the taboo topic of mental illness and suicide to the forefront. 
And here is the staggering truth: According the CDC, suicide is the 10 leading cause of death in the US; accounting for 44,965 Americans deaths annually. And for every suicide, there are 25 attempts.
These are alarming statistics, making one thing very clear: this is an important conversation to keep having. Because, mental illness does not discriminate. No one is immune. I can personally confirm this--as someone who has seen loved ones hurt; as someone who once sought help for anxiety and obsessive compulsive disorder; as someone who wants to end the stigma surrounding mental disease; I promise you that it's a universal issue and something we must all must face together. Let's continue to look out for each other and remember that quote...
There was a time before; there will be a time after.
If you or someone you know needs help, please don't hesitate. Here is a list of resources. We will continue to add more to this list.
Suicide Prevention Lifeline: Call 1-800-273-8255. The Lifeline provides 24/7, free and confidential support for people in distress. They also offer prevention and crisis resources for you or your loved ones, and best practices for professionals.
Crisis Text Line. Not a talker?  You can text HOME to 741741 to access free, 24-hour support.
Suicide Prevention Resource Center: The Suicide Prevention Resource Center (SPRC) is the nation's only federally supported resource center devoted to advancing the National Strategy for Suicide Prevention. 
American Foundation for Suicide Prevention: The AFSP raises awareness, funds scientific research and provides resources and help to people affected by suicide. THIS PAGE also offers various suggestions for those seeking help for themselves or others. 
Potential warning signs and risk factors
What to do when you think someone is at risk.
This is not a sponsored post.