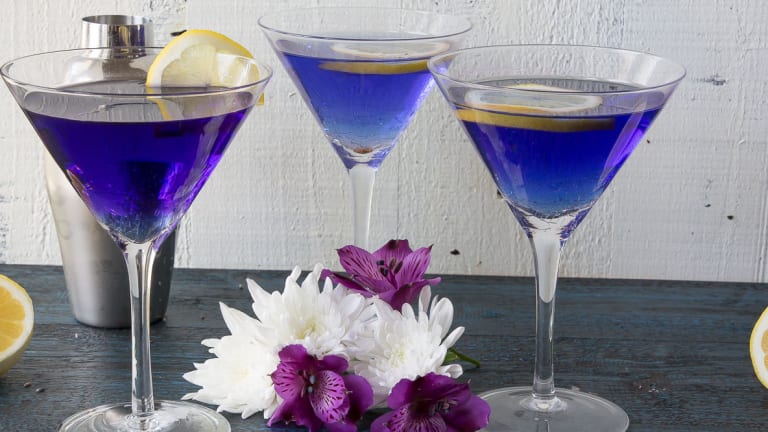 Publish date:
Gorgeous Lavender Vodka Tonic
If you like a colorful cocktail this purple vodka drink is perfect for you. Check out our recipe.
If you like a colorful cocktail this purple vodka drink is perfect for you. Check out our recipe.
Have a long, hard week? Need some relaxation and maybe a yummy adult beverage in your hand? I have just what you are looking for! A lavender vodka tonic.
Related: Paloma cocktail recipe
Go ahead and make this cocktail, put your feet up, and feel the stress of the week melt away as you sip on this fragrant floral cocktail.
The Magic of DIY Simple Syrup
Lavender is widely known for its soothing and relaxing aroma, but did you know you can use it in your culinary endeavors as well?
For this cocktail, I used dried lavender in my simple syrup. By combining equal parts of sugar and water, you can make a base syrup. From there you can infuse it with any flavors you would like.
To infuse it with lavender I added 1 tbsp to the water and sugar, brought it to a boil and then reduced the heat to a simmer for 5 minutes. After simmering, remove the pot from the heat entirely and let the dried lavender steep for about 10-15 minutes.
Strain the syrup to remove the dried lavender and store in the refrigerator for up to a week. I promise it won't last that long! This syrup is amazing!
Summer is the Perfect Season for this Vodka Tonic
This drink is best served cold, and I recommend chilling your lemonade and tonic water before mixing your cocktail.
Once your ingredients are chilled, mix 2.5 ounces (1 shot) vodka, 2.5 ounces of lemonade, and 5 ounces of tonic water. To that add two tablespoons of the lavender syrup. Mix well and serve over ice.
This delightful concoction can be enjoyed by the pitcher or by the glass, When you make it at home, feel free to add a drop of purple food coloring to achieve the gorgeous coloring in the photo.

Five Tips To For a Girl's First Leg Shave
Do you remember your first time shaving? Mine wasn't pretty. I snuck my dad's razor and shaved my legs dry. It wasn't pretty. Get your daughter ready for this rite of passage with the right tools and a quick education. We've got five tips to help you navigate your daughter's ...read more
Why You Should Add Wild Blueberries to Your Diet
Do your New Year's goals involve healthier eating? Adding more fruits and vegetables to your diet? Or even adding tasty new recipes to your repertoire? We've got five reasons for you to add wild blueberries to your diet. Our friends from the Wild Blueberry Association have ...read more
Why Moms are Loving This Blueberry Couscous Salad
It's blueberry picking time. And while most blueberry recipes revolve around baked goods, we've got something different to share. First, a few sentences singing the praises of this lovely fruit. Blueberries are high in antioxidants, improve memory function and reduce the effects ...read more
Lavender Vodka Tonic Ingredients
makes 1 cocktail
2.5 ounces vodka
2.5 ounces lemonade
5 ounces tonic water
2 tablespoons lavender syrup *
Ice
Lemon slices for garnish (optional)
Purple food coloring (optional)
Lavender Syrup Ingredients
1/4 cup sugar
1/4 water
1 tablespoon dried lavender
Directions: Bring all ingredients to a boil, reduce to a simmer and hold for 5 minutes. Remove from heat and allow the lavender to steep for 10-15 minutes. Strain syrup to remove lavender and store syrup in the fridge.
Lavender Vodka Tonic Directions
Combine vodka, lemonade, and syrup in a shaker with ice. 
Shake and pour into cocktail glass. 
Top up with tonic water. 
Add food coloring if desired and give the cocktail a stir. 
Garnish with a lemon slice or wedge. 
Something about a colorful cocktail adds a bit of fun to the mix. Happy Sipping!
More Cocktails from Momtrends
PIN IT!
Use Pinterest to save your favorite cocktail ideas. Be sure to follow our Drinks board here.