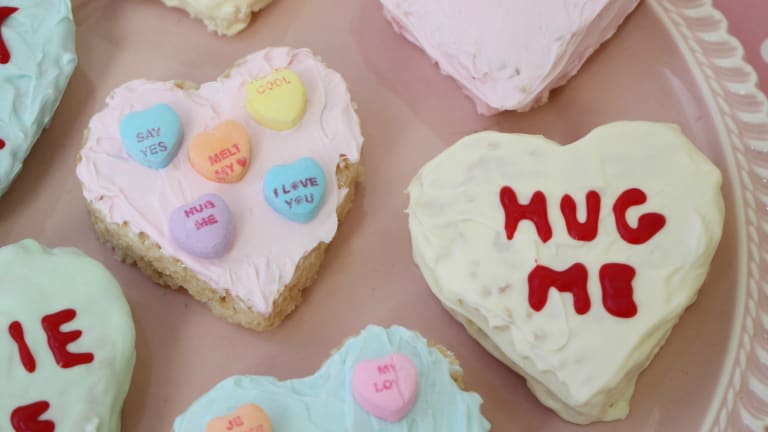 Publish date:
Easy Last Minute Valentine's Day Ideas
Stuck on what to do for Valentine's Day? We've got you covered with three ideas for sweet fun!
Stuck on what to do for Valentine's Day? We've got you covered with three ideas for sweet fun!
Who needs some last minute Valentine's Day ideas? Come on. Raise your hands! Valentine's Day just snuck up on me this year. Does anyone else feel that way? I got sick last month (check out how I survived the flu) and that carried over into this month, so I haven't done the normal heart day prep that I typically do. I mean I just got my Christmas decorations down. Don't judge. Bwah! 
Anway...Even though I haven't really gotten into the Valentine's Day spirit yet, that doesn't mean I don't want to treat my loved ones. Thank goodness for the internet. There is no shortage of fun last minute Valentine's Day ideas out there. And since I bet I'm not the only mama in this position, I thought I would share some of them with you!
Easy Last Minute Valentine's Day Ideas
Make a Valentine's Craft
Message in a Bottle Valentine...You don't have to buy your Valentine a fancy gift. A heartfelt note goes a long way. And it doesn't get much more romantic than a message in a bottle!
Make a Last Minute Sweet Treat
Conversation Heart Krispie Treats...Get ready for the cheers when you unveil this adorable treat. They're the perfect alternative to traditional Valentines. Hey, they're edible. Kids love edible anything!

Five Tips To For a Girl's First Leg Shave
Do you remember your first time shaving? Mine wasn't pretty. I snuck my dad's razor and shaved my legs dry. It wasn't pretty. Get your daughter ready for this rite of passage with the right tools and a quick education. We've got five tips to help you navigate your daughter's ...read more
Why You Should Add Wild Blueberries to Your Diet
Do your New Year's goals involve healthier eating? Adding more fruits and vegetables to your diet? Or even adding tasty new recipes to your repertoire? We've got five reasons for you to add wild blueberries to your diet. Our friends from the Wild Blueberry Association have ...read more
Why Moms are Loving This Blueberry Couscous Salad
It's blueberry picking time. And while most blueberry recipes revolve around baked goods, we've got something different to share. First, a few sentences singing the praises of this lovely fruit. Blueberries are high in antioxidants, improve memory function and reduce the effects ...read more
Sip Something Special For Valentine's Day
Valentine's Day cocktail...And when the kids go to bed, serve your honey an on theme cocktail. If he or she has a sweet tooth, this drink is for them. Not only is it fabulously festive, but it's berry berry delicious too!
So, there you have it...A few easy last minute Valentine's Day ideas for your oh so special Valentines. I hope you all have a loved filled day! 
And if these ideas aren't enough, check out our round up of Valentine's Day mailboxes. Your kiddos' classmates will surely be impressed when they show up with one of these!
MORE WAYS TO MAKE IT A HAPPY VALENTINE'S DAY!
PIN IT!
Be sure to follow our Valentines board and pin your favorite ideas.
We were not paid for this post.