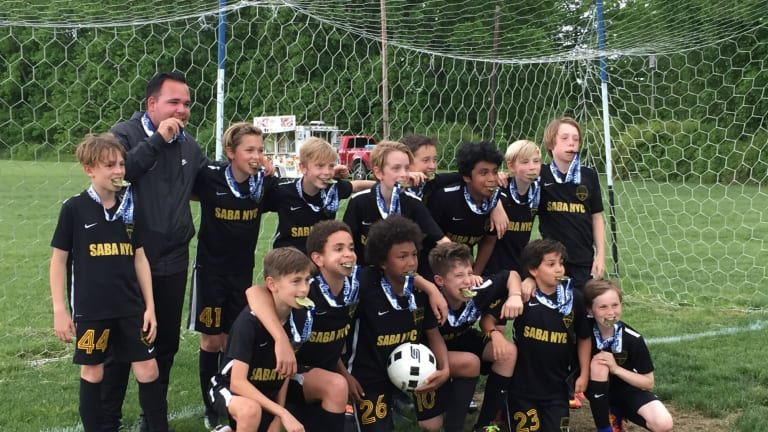 Last Minute Father's Day Gift Ideas for Sports Fans
We rounded up a slew of last minute Father's Day Gift ideas for sports fans! There's no reason to stress if you haven't picked up a Father's Day gift yet, we have plenty of fun ideas that will ship in time!
Ok, Father's day is only three days away. Are you ready? Maybe you need some last minute Father's Day Gift ideas. How about last minute Father's Day gift ideas for sports fans?! We certainly have a few sports fans in my house and the hubs is definitely one of them. In fact, he and my son have a shared soccer passion and have spent many an hour on the field and in front of the television playing and cheering on their favorite teams like Manchester United! There is something so special about seeing the greatest loves of your life bond over shared interests...
So, I'm thinking a sports themed Father's Day gift would be just the ticket this year. That being said, it's been a busy month for this mama and since I haven't exactly gotten my act together enough to actually buy a gift yet, I'm thankful there are plenty of last minute Father's Day gift ideas for sports fans. That sound you hear is a collective sigh of relief from us procrastinators! In fact, I rounded up a slew of fun gift ideas to share with you today because I'm certain I'm not the only one who hasn't nailed down Father's Day yet...
Attention Soccer Fans
And speaking of soccer, have you heard about the International Champions Cup? Even if you haven't, if you have a dad, spouse or kiddo who's into soccer, I'm sure they have. It's kind of a BIG deal. For a little background, it's a world-class tournament that features many of the TOP soccer clubs in the world! For instance, this year 18 clubs will be playing 27 matches across the United States, Europe and Singapore.
Needless to say, tickets to an ICC game would surely be a slam dunk in the Father's Day gift department. We're talking record breaking attendance at these things people! If you're a soccer fan, you want to be there! Think how happy the little soccer player or soccer dad in your life would be if they had the chance to attend one of these matches...
For its sixth installment , the U.S.-based matches will be in New York/New Jersey, Miami, Los Angeles, Washington D.C., Chicago, Charlotte, San Diego, Minneapolis, Pittsburgh, Dallas, and Philadelphia. You can see the BEST European players right from a city near you. And if you happen to be in Europe this summer, European stops include Vienna, Gothenburg, Madrid, Stockholm, Naples, Klagenfurt, Lecce and Warsaw. Singapore will also showcase three matches at the Singapore National Stadium. I told you it was a big deal...
Head HERE to get your tickets today! Our family is planning to head to MetLife Stadium in New Jersey on 8/7 because, in case you hadn't noticed, we're such HUGE soccer fans...And I couldn't wait until Father's Day to make plans that epic! Haha!
Ok, so now that you know what the perfect Father's Day gift for a soccer fan is, I rounded up a few more Father's Day gift ideas for sports fans below...P.S. I tried to only pick ones that could ship in time for the big day!
Last Minute Father's Day Gift Ideas for Sports Fans
Personalized Golf Balls / Range Finder / Backpack Chair with Cooler / Lawn Games / 1 Person Kayak / Towable Tube / Running Medal Display / Pickleball Paddle Set / Horseshoe Set / Home Basketball Arcade Game /  Bend-It Soccer Ball / Agility Soccer Cones
MORE FATHER'S DAY IDEAS FROM MOMTRENDS
PIN IT!
Use Pinterest to save your favorite ideas and organize your life. Be sure to follow our Fathers Day board here.
Compensation was provided by International Champions Cup via Momtrends. The opinions expressed herein are those of the author and are not indicative of the opinions of International Champions Cup.