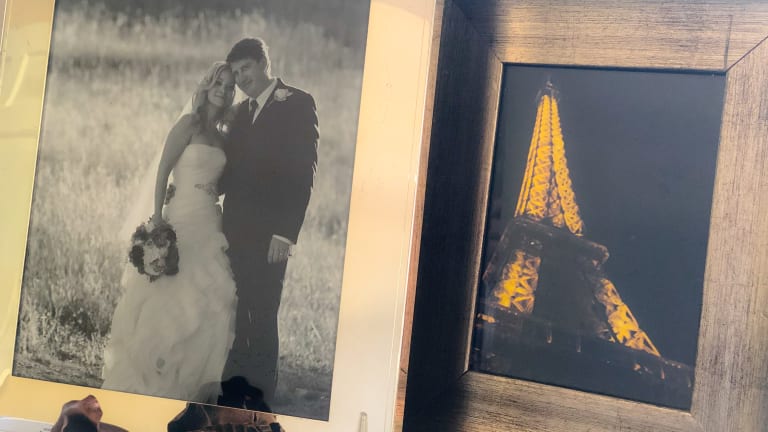 Love Your Jewelry, Love Your Choices
Diamonds may be a girl's best friend -- but my husband is this girl's best partner in love and life. And the ring he put on my finger to represent our union? Well, it's one of my most prized possessions -- a gorgeous piece of fine jewelry, indeed.
But I can say with confidence that I place more weight in its emotional value than its monetary worth. Yes, a diamond is expensive and impressive and elegant; it dresses us up and makes us sparkle; but there's so much more to stop and think about than its luster, price tag, and carat size.
I never really gave all of this much consideration until recently, when I learned about Clean Origin, a brand that seeks to make diamond shopping easier, more conscionable, and as special as possible. But, before I do a deep dive into engagement rings and diamond demand, indulge me by reading a personal anecdote: my love story in Paris.
Once upon a time (A.K.A. a decade-plus ago) -- before I was a wife and mom of three -- I traveled the States and globe. Month after month, I'd have a trip (or two! or three!) lined up. For fun, for work, for both! It was part of my job and a perk of the gig as a lifestyle and travel writer and editor; I went from London to Hawaii to Istanbul to Barbados to Colorado to Mexico -- and lots of places in between.
It was my editorial responsibility -- and personal pleasure -- to report on hotel openings, tourist events, and epicurean attractions. I enjoyed every moment, and soaked it in while I could; I knew that once I settled down and started a family, I'd want to slow down and be home more. But until that fateful leap of love and faith, I was going to see our country and explore the world.
And then there was Paris.
I had been dating my now husband for a few years before RSVPing to attend a work trip to the City of Light. We were living together and very serious about each other, but respectively focused on our budding careers. I kissed him goodbye at the airport gate and said "au revoir -- see you in one week's time."
Little did I know I'd actually see him in just 48 hours. He had gotten ahold of my itinerary and magically appeared at my fancy Parisian hotel. I walked into the lobby, perspiring and exhausted, from a full day of tourist activities, and found him standing there with a massive bouquet of roses in tow.
I knew what was happening, of course, the second I spotted him. Your boyfriend doesn't surprise you in Paris for an impromptu dinner date. Still, it was, well, a total shock. I knew a proposal was likely in the near future, but I hadn't anticipated this timing for a moment.
It was the most sweeping and romantic gesture ever, but sort of hilariously awkward. He flew all the way to France (for just 24 hours, mind you), and didn't wait to propose under the twinkling lights of the Eiffel Tower or get down on one knee by the Louvre at sunset. No, he accompanied me to my room, and then immediately popped the question while I awkwardly attempted to wipe the sweat from my face and look more presentable for this momentous event.
Nevertheless, there he was holding this gorgeous, glimmering princess-cut gem and asking me for my hand in marriage. And just like that I had a fiancé -- in Francé!
I stared at that ring the entire rest of my trip. While my colleagues (that's right, I was with a group!) looked at the Mona Lisa, I looked at my ring finger. When we went to the Baccarat museum and they admired the jewels, I marveled at my engagement ring. While we toasted at business lunches, I secretly tapped my glass to the adventure ahead, the diamond on my finger, and the diamond in the rough I had snagged, who was already flying back home.
I still love looking at my ring. I love what my engagement diamond and wedding band both represent.
Lab-Grown Diamonds
Clean Origin wasn't around when I got engaged, but I love that this incredible brand offers stunning loose diamonds and engagement rings, wedding sets, eternity bands, stud earrings, and tennis bracelets in good conscience.
The only difference between a Clean Origin lab grown diamond and a mined one is that it is made in a lab using state-of-the-art technology that mimics the natural diamond-forming process. The resulting diamond itself is just as gorgeous, just as unique, and just as real -- physically, chemically and aesthetically -- as one that was formed beneath the Earth's surface.
Your love is pure -- and hopefully so are the diamonds that represent your lives together. But a lab-grown diamond is the only way to guarantee that your diamond is conflict free and completely ethical. What's more, a lab-grown diamond has a much smaller carbon footprint, and, while just as special, it can be significantly less expensive than a mined stone. The service goes above and beyond, and the experience is one you'll cherish.
If you are married or engaged or in love, treasure the one you have (the diamond and the partner!), and next time you are celebrating an event or upgrading jewelry or buying something sparkly for yourself or someone else, be sure to do your research and "go clean." Every time you look at your new gem, you'll feel good about your love and your choices. A Clean conscious, a flawless ring, and a luminous love. 
This post is sponsored by Clean Origin. All opinions are our own.