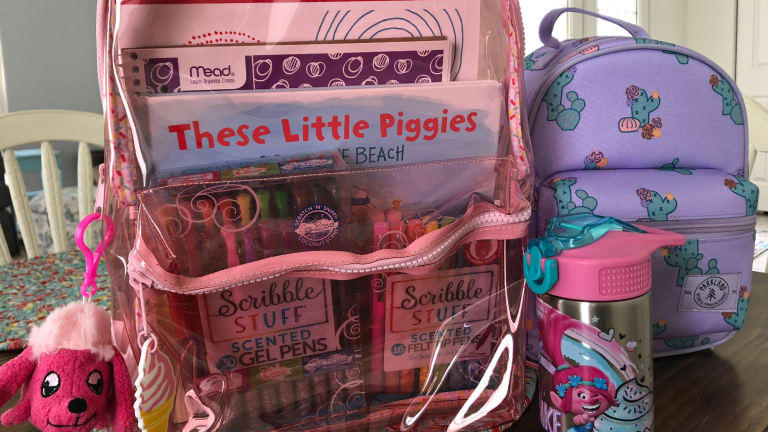 Publish date:
Kid Road Trip Kit Essentials
These are the kid road trip kit essentials every mom needs...
Are you a road trip lovin' family? Then you need to know about what I consider road trip essentials for kids. My family is big on road trips and after many years of road tripping to the mountains with our wee ones, we've honed in on our go-to road trip must-haves. And we love adding new favorites along the way. In fact, our latest finds have fit in seamlessly with our tried and true tricks! We actually just got back from our latest mountain adventure and brought everything I'm going to share with you today along with us. If you have a road trip planned this season, get ready to add some of our road trip essentials to your must buy list...Your kid road trip kits will never be the same!
Kid Road Trip Kit Essentials
What should be in a kid road trip kit? Well, the first thing you need for a kid road trip kit is a backpack. This year we went  with the Target Museum of Ice Cream art class vinyl backpack for my daughter. She's a bit spill prone like her mama, bwah, so something that we could wipe down was important. Plus, it's see through, so she was easily able to find all the goodies we packed. And I mean how cute is this Museum of Ice Cream collab? I'm loving all the sherbet like hues and faun prints! Now as for as my son goes, we opted for the Parkland Meadow backpack. Durability was key as he's a rough and tumble kinda kid. This tough pack is made from 100% recycled polyester and heavy duty webbing! And what backpack couldn't use a backpack a cute backpack clip? Dream Pets offers those and soft, sweet plush toys to cuddle with. Those are the kinds of things I unveil during the drive. Tossing back a new surprise every new and again keeps the whining at bay. Bwah! Smoky, for instance, was a bit hit.
Next comes lunchboxes...They're perfect to pack individual snacks and drinks in so you don't hear "Mom I need a snack!" every five minutes. Parkland has some super cute options like their Rodeo Lunch Kit in Cactus Flower and Dino. I filled them with things like fresh fruit, snack size bags of crackers and the dried fruit jerky from Watermelon Road. And with the lunchboxes, I suggest you include a stainless steel water bottle. We love the ones from Zak. They always feature my kids' favorite characters and the quality is stellar too. Water stayed super cold in their Trolls water bottle and Jurassic World 2 water bottle for HOURS! I just kept refilling them from the water in our cooler. Easy peasy!
Ok, now that we have food and drinks covered, let's talk boredom busters. I suggest having a variety of boredom busters on hand, both electronic and good old fashioned paper. Books, craft supplies, smart devices and games were all in my kids' road trip kits. Let's go old school first...I surprised both my son and daughter with a couple new books each. Since we were road tripping, I thought it would be fun if they had some books and activity books that focus on exploring our country! I highly recommend These Little Piggies Go to the Beach, Get Smarter: Super Fun Travel Activities to Baffle Your Brain, The 50 States: Activity Book and National Parks of the USA. Not only is reading a quiet activity, but it's how I keep their little brains sharp, so school won't be such a shock when it starts up again.
Also, not so loud are coloring or drawing. Scribble Stuff makes some incredible felt tip and gel pens that even come scented. All the kids needed to have fun with those were some new notebooks. The colors are so bright and bold and they glide on the paper so smoothly. They doodled and doodled away. I see many an art project to come happening with these new pens. They would be great to sock away for the school year ahead too!

I also recommend that you get yourself a Kids' Fire Edition tablet with Amazon  FreeTime. Not only do they come with a durable case and a two-year warranty, but it comes with a free one-year subscription to FreeTime where you'll find loads of books, movies, tv shows, educational apps and more! You can even adjust age filters on there, so you know the content options are age appropriate. Thanks to FreeTime we could load up my son's Fire with even more books to enjoy on our ride AND movies. So, once he tired of reading, he could sit back and enjoy one of his favorite flicks. And his parents could chat in the front in peace. Bwah! Also, if we even wondered what was going on back there, we could log into the parent dashboard so we could see which content was being consumed. Three cheers for peace of mind! Did I mention the FreeTime account can be used on any compatible device? So, my daughter can take advantage of this handy dandy service too. Score!
And finally, there's gaming, otherwise known as my son's favorite hobby. He is ALL in with Nintendo games and Mario Tennis Aces (where he can have full-on tennis battles with some of the best Nintendo characters) and Donkey Kong Tropical Freeze (where he can get in on some classic Donkey Kong platforming action, island style) are two of his new go-to Nintendo Switch games. This was our first road trip with the Switch and while we've taken it on shorter rides in the car, the road trip really proved how cool this system is. To be able to have the whole system right in your hands is such an incredible feature. We bought it for him for Christmas last year and I'd say the cost per use ration has come out in our favor at this point. Haha! Mario Tennis Aces and Donkey Kong Tropical Freeze are ideal boredom busters! They're perfect not only for road trips, but as a great way to combat summer boredom in general.
Kid Road Trip Kit Cheat Sheet
*backpack
*lunchbox
*snacks
*stainless steel water bottle
*books
*art supplies
*plush toy for cuddling
*smart devices (with books and games loaded on them)
So, are you ready to pack up their new and improved kit road trip kit? I knew you would be? Before you go, make sure you check out our road trip safety tips. You don't want to hit the road without them!
We were not paid for this post. We did receive samples and it does contain affiliate links.