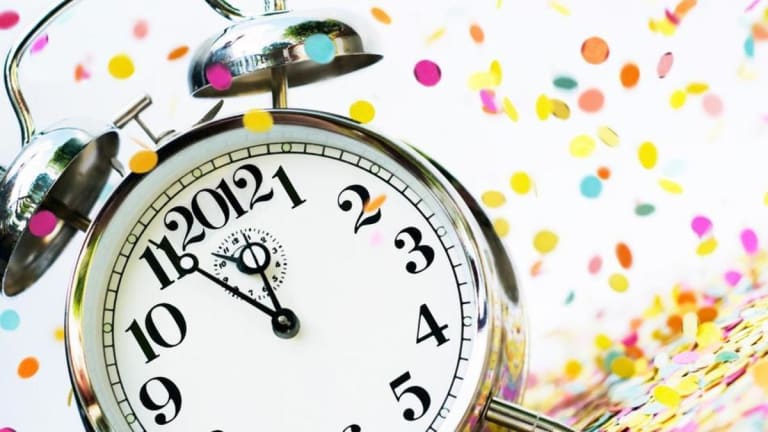 Keeping your 2022 New Year's resolutions
Six success tips for meeting your personal goals this year and avoiding the pitfalls of Quitters Day.
The New Year is off to a fresh start, and many of us are committed to doing something or many things with more intention this year. But it's tough to stay on track. In fact, "Quitters Day", which falls on January 14th this year, is the day when most people give up. How can you keep your New Year's resolutions and make changes that will stick? We've got some tips.
Related: 20 healthy recipes to start the new year
Six success tips for meeting your personal goals this year. 
Focus on why: Be honest with yourself, and make sure that you are doing what's best for you. How will your resolutions contribute to your self-improvement? Think of the things that are most important to you. If you put too much on your list you will be worried about trying to fit them all in and you lose track of what the real goal is.
Make a plan, not just a resolution: Choosing a New Year resolution can be easy, but creating new habits takes time and energy. Making a plan with organized steps will help you stay committed to your goals. An example: I will eat meat-free meals on Monday. It's specific and actionable.
Think small: Sure you are thinking, why not go big for the next year? Well for example if you want to lose 50 pounds in a year, set a lower weight each month and work on that. That way you don't overwhelm yourself. If your goal is to work out everyday that might not be possible time wise set it to 3 times a week for sure and if you have extra time go for it. Tackling small-scale goals will prepare you to take on larger tasks. Schedule a consistent time devoted to achieving your goals, and you will get there.
Set goals that you can start at different times: For instance if you want to train for that marathon or be outside more with your kids then maybe spring would be a good time to start. You can start in the gym for that marathon but then move some of your exercising to the outdoors and make a list of the things you want to do with your kids. That leads to my next point...
Write them down: Write them anywhere that will be a reminder to you of what you have set for yourself (on paper or digitally). Write them in multiple places if you have to, set an alarm on your phone or computer to pop up. Even tell your friends about what you are doing, they will be great encouragement and a good friendly reminder. Your goals may seem realistic in your head, but writing them down will help you achieve them in a stress-free and more efficient way. It's also a great way to keep track of your progress.
Reward yourself: We all like to be rewarded for when we do something good or accomplish something. Don't take it too far by eating a whole bag of cookies or spending hundreds of dollars on a new outfit but a little reward now and then for keeping yourself on track will be something that will keep you going. Sure, if you keep it up all year and it's almost the end of the year, go out and have a party for yourself, buy those incredible shoes, amazing handbag, sexy dress or eat a big piece of cake. Do something just for you.

Be Kind to Yourself
Finally, know that's it ok to start over at any time. If you've already lost the motivation to achieve your resolutions, don't be afraid to start again! Don't worry if you slip up every once and awhile, we are all human and we all do it. Instead of waiting for the new year, you can reset your intentions for 2022 now.
MORE MINDFUL FEATURES FROM MOMTRENDS
PIN IT!
Use Pinterest to save your favorite ideas from Momtrends. Be sure to follow our Fitness and health board here.