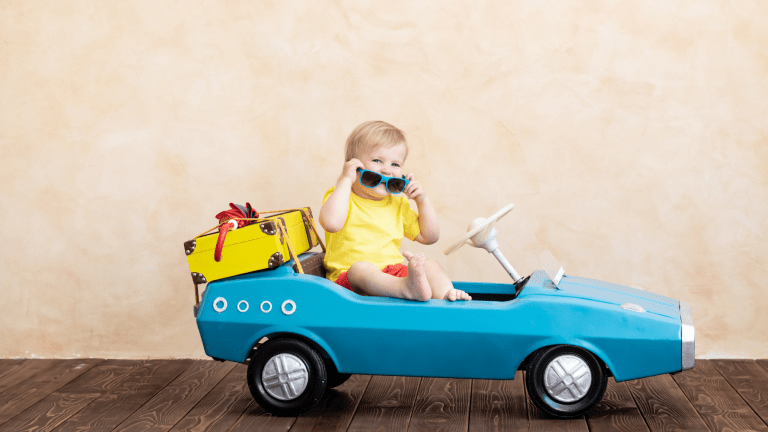 Keeping Kids Safe (and Cool) This Summer On the Move
Summer is a busy travel season for many of us. We spend our time going on exciting impromptu adventures, exploring country roads during fun family road trips, and then, of course, we've got those daily busy camp drop-off and pick-up sessions. 
With all the coming and going parents do in the heat this time of year, it can be stressful, exhausting, and even dangerous. That's why it's important to take a few key precautions.
Car Safety Tips to Follow This Summer:
Utilize Available Technology: According to KidsAndCars.org, on average 37 children die each year as result of being left in a hot car, a number that has continued to significantly increase. Last year alone, a record-setting 52 children died of vehicular heatstroke in the U.S according to noheatstroke.org. The newly designed SensorSafe embedded into the SensorSafe Smart Chest Clip in the front of Evenflo Gold car seats and the accompanying app gives parents access to important safety insights by providing real-time alerts to their smart devices when unsafe conditions arise—such as a child being too warm or the child being unbuckled in their car seat. If a child is left in the car and the parent doesn't respond to the app alert, an emergency contact is notified. If multiple alerts are neglected, all of the emergency contacts set up in the app are sent the location of the vehicle using GPS tracking.
Choose the Right Car Seat and Install Properly: According to Sarah Haverstick, approximately 70% of car seats are not installed properly, which can impact their ability to protect children in the event of a crash. Parents should seek out on of the many certified car seat technicians located across the country to assist with any questions or concerns, including car seat installation and car seat measurements for their specific vehicle.
Watch Out for Hot Metal Tongues: Another warm weather concern is the metal tongues on a child's car seat buckle. During hot and sun-filled days, the metal seat buckle can be painful if it comes in contact with children's skin.
Shield Car Seat and Stay Hydrated: A vehicle's interior can quickly heat up from the sun when it's been sitting for too long. To help your child's car seat remain cooler, place a light-colored sheet over the car seat when not in use. For longer car rides, make sure to plan ahead by stocking a cooler full of water bottles in the trunk of the car. This helps fight dehydration while traveling in a hot car for long periods of time.
Secure Loose Objects: To limit the threat of projectiles in the vehicle, always keep items such as toys, equipment, bags, etc. in the trunk of the car or on the floorboard of the vehicle. If the car is not equipped with a closed trunk, such as an SUV model, use cargo nets or shields in the back to keep the child safe.

Want more? Check out these road-trip safety tips. Of course, summer is also swimming season--so be sure to check out these important pool-safety tips.
This is not a sponsored post.