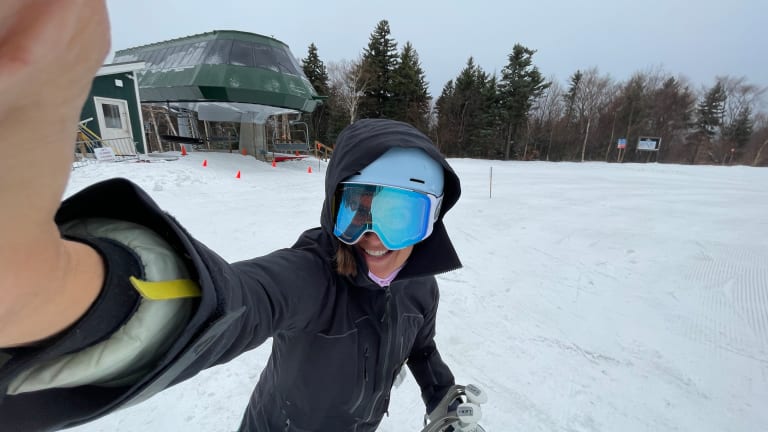 Keep Your Hands and Feet Warm with Canada's Most Loved Handwarmers
Aurora Heat warmers uses beaver fur to hold in your body heat and keep you warm.
For all the folks out there with cold hands and toes, I have a solution that is both effective and sustainable! And, of course, it comes from a mom. Aurora heat is a small brand out of the Northwest Territories of Canada. Using sustainably resourced beaver pelts, they have created all-natural liners to line gloves and boots. I've tested them and they are awesome.
Related: Relief for chapped hands
How Aurora Heat Works
Aurora Heat uses small pieces of beaver pelts to trap in heat and repel wind. The company was started by Brenda Dragon. Her family has a long history of fur trapping AND using tried and true aboriginal practices to stay warm.
The beaver pelts are sourced sustainably in NW Territories of Canada. A team of women cut them into the just right shapes to tuck into your winter gear.
The Founder, Brenda (a ski mom) used what she knew to work to keep her family warm...fur. The beaver fur is incredibly soft and supple. That part goes next to your skin. The leather side goes agains the glove (or sock) to repel wind and retain heat. 
There is nothing to activate, nothing to unpack. 
Simply slide the fur into your mittens and go. 
Once the fur is in the mitten, there's no need to take them out.
Unlike the disposable hand warmers, these won't explode in your gloves or make a mess. 
A set of handwarmers is $69. Unlike single-use and battery-operated warmers, Aurora Heat will never run out of warmth and will be enjoyed season after season, year after year. The product is naturally biodegradable, and hypoallergenic.
We do have a discount 10% off discount code: SKIMOMSFUN shop at Auroraheat.ca (they do ship to the USA). Pick from two sizes and two colors. You can also pick from two thicknesses.
Fur Foot Warmers
Many ski moms worry about little feet. I use rechargeable battery-operated socks, this is an alternative. When I talked to the owner, she said on the feet. 
Pull the sock on over the toes. 
Wrap the fur over the toes inside the sock (fur side towards the skin)
Pull the sock up the rest of the way. 
Carefully slip foot into boots. 
Why Fur Makes Sense
Sheared beaver fur is dense, velvety-soft underfur, sheared to an optimal height. It is breathable, and odor resistant, composed of 10,000 fur filaments per square inch. This insulation layer is what enables beavers to keep warm while going in and out of freezing water in Northern Canada. If it's good enough for the beavers, it's good enough for humans!
While fur sometimes get a bad reputation for being cruel to animals, I also believe that wrecking the environment with the chemicals that go into disposable hand warmers (not to mention the packaging) is worse.
Stuff them in your gloves and mittens and you'll never buy the disposable heat insets again. I was a doubter…but now I am a believer. I insisted on testing these for a month before I would write about them.
Yep, they are pricey, but I will never use a disposable again. Aurora Heat employs local women to assemble and ship all the packages, creating a vibrant economy in a small village.
These get the Ski Mom seal of approval. They cut the wind and keep fingers so cozy.
Fur Bundles
These warmers aren't just for your mittens, they also have a thumb insert and foot warmers, as well as body warmers. I suggest getting the Traditional Bundle ($249.99). This bundle includes a pair of Hand Warmers, Foot Warmers, and Thumb Warmers, along with one Head & Body Warmer.  With this set you'll be ready for all your winter adventures.
Shop AuroraHeat.ca/skimoms here use code SKIMOMSFUN for 10% off.
MORE SKI FEATURES FROM MOMTRENDS
PIN IT!
Use Pinterest to save your favorite family travel features. Be sure to follow our Ski Moms Pinterest Board.