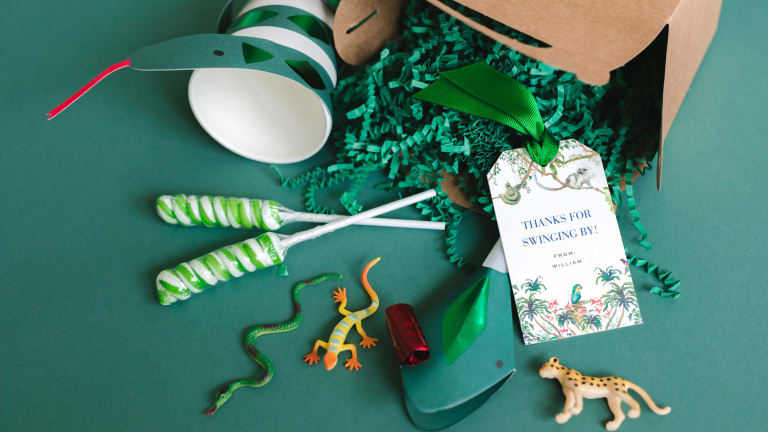 Publish date:
Jungle Themed Birthday Party
Put together a jungle themed birthday party for your kid with our inspired party tips.
Put together a jungle themed birthday party for your kid with our inspired party tips.
Ask any first grade teacher, and they'll tell you that getting a bunch of six year olds together is basically akin to inviting wild animals over for a raucous riot of a time. But that notion didn't stop Jennifer Hunt, CEO behind Dixie Design Collective, from throwing an amazing birthday party event for her son's big day. In fact, Hunt embraced the wildness with an exciting and oh-so fitting jungle theme! 
Related: Plan a pirate birthday party
And now we're sharing how she put together this party--so you can do it too... if you dare!
Jungle Party Inspiration
You can never go wrong with balloons at a kids' birthday party! This beautiful green garland with pops of peach and pink hues was created by @party_pickup.
Check out this incredible cake created by Dream Cakes. Decorated with fondant palm leaves and greenery. It makes a simple statement and looks delicious to boot! (See more of their inspiring custom edible creations on Instagram @dreamcakesbham.) The wooden cake toppers by Poppy Jack Shop add a little something extra, and the rippled cake stand is by @susangordonpottery.
Most party-planning mamas don't have the time to sweat the details. That's where @party_pickup comes into action. Their customized party in a box set includes dessert plates, napkins, paper cups, paper straws, cutlery, and more. (How awesome are those snake-wrapped cups?!?)
I love the bamboo carts, serving trays, and decorative touches by @maryandwilma. Don't forget the jungle juice!

Sleep hack to give moms a more restful night
Looking for a life hack to get better sleep? Here's my go-to sleep hack to give moms a more restful night: get better pillows. Thanks to perimenopause, my sleep has been interrupted and I was finding it hard to get back to sleep after my 3am wake-up. I lowered the temperature in ...read more
Our Best Brow Tips
If you've been on TikTok at all in the past couple of years, you know that full brows are where it's at. Sure, the 90s are back, but thankfully, the kids left that decade's overplucked brows trend good and buried. Now even if you don't have the naturally full brows you once did, ...read more
5 Pretty Ways To Organize Your Jewelry
I admit - I'm guilt. Despite my best efforts, my "jewelry drawer" has become a tangled mess of necklaces, bracelets and earrings. This cluttered collection not only makes it hard to see what I have, but difficult to untangle the pieces I do want to wear! This summer, I'm ...read more
These apropos wild flower arrangements and kitschy candy grazing stations were created by @savor_style... But please don't feed the animals (ha!).
Dixie Design Collective, a purveyor of semi-custom stationery and wedding paper, are to credit for the colorfully fun invitations and signage.
Jungle Themed Birthday Party Inspiration
Love this amazing kids' party? Come check out our RAWR-some dinosaur party and this cool ice-cream social.
MORE BIRTHDAY PARTIES FROM MOMTRENDS
PIN IT!
Be sure to follow our Kids Birthday Party board on Pinterest for more party inspiration.
This is not a sponsored post. Thank you to Dixie Design for sharing these images.