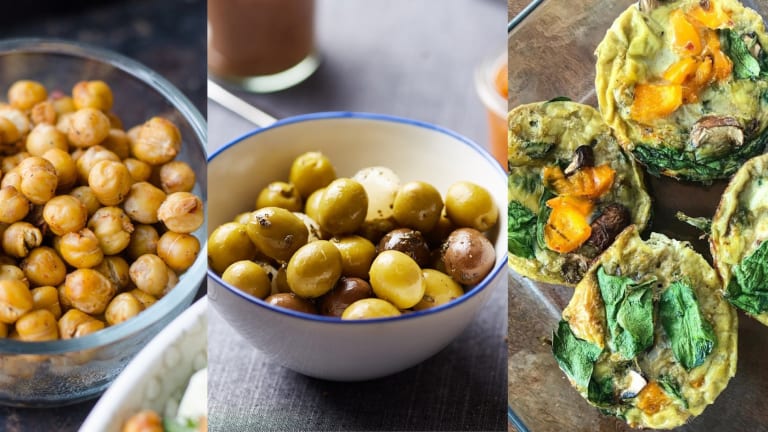 It's Time to Learn About Our Metabolic Health
Calibrate offers a new holistic and sustainable approach to weight loss that combines doctor-prescribed medication with behavioral changes.
With the holidays over, and resolutions kicking-off soon, we want to remind our community that health is the goal, not a number on the scale. Over the years, we've been really picky about the messaging of weight loss and diets. This site has always been about acceptance and appreciation. When a new idea comes along that embraces our wellness philosophy and combines it with science, we're all ears. That's why we are partnering with Calibrate in 2022. It's not a diet, Calibrate was built as a metabolic health company and there's a lot to learn!
Start here. Take the 2 minute Calibrate Quiz to see if the program is right for you.
Changing How We Think About our Weight
I hope you know you are more than a number on a scale. And I also hope you know the bajillion dollar diet industrial complex has set women up to fail: the promises of quick fixes and drastic weight loss are harmful and not helpful. For decades, women have been spiraling in a pattern of chasing fads with nothing to show for it.
It's undeniable that excess weight is a reality. And it's also undeniable that being obese is hurting our health.
Take a look at the numbers:
We need something different to truly support us as we try to edit our lives towards vitality and health. Let's stop with the expensive supplements, trendy diets and self-flagellation, and turn to science.
What is Calibrate
Calibrate was designed to support the 9 out of 10 American adults who are in poor metabolic health. As a metabolic health company on a mission to change the way the world treats weight, Calibrate offers a one-year digital program that combines medication, coaching and curriculum, and tracking and community. Combined, these elements drive a program of sustainable, long-term weight loss. The program takes a year (I did mention this wasn't a quick fix)and you absolutely deserve to invest in yourself and your health.
As for results, Calibrate guarantees a minimum of 10% weight loss within one year on Calibrate's One-Year Metabolic Reset. This Results Guarantee was informed by Calibrate's earliest members who saw an average weight loss of 15%. If you're eligible and do not see at least 10% weight loss within one year, The Calibrate Results Guarantee promises a program refund (less the $249 Assessment cost). 
How Does Calibrate Work
Calibrate offers a new holistic and sustainable approach to weight loss that combines doctor administered medication and lifestyle changes. Decades of research has shown that weight loss isn't about willpower, it's about our underlying biology. We are not designed to lose weight after we've methodically gained it. We have to find a way to improve our metabolic health—the way our system responds to environmental inputs. This is the way to meaningfully change how your body holds onto excess weight–not crash diets that only exacerbate the problem.
There are three key components of the Calibrate metabolic health program.
Medical Support: This includes doctors and prescribed GLP-1 medications (not over-the-counter supplements). You'll get baseline labs, a metabolic health assessment, and help navigating insurance coverage, as well as written check-ins at key milestones throughout the program to measure metabolic marker improvement––all managed virtually by a dedicated medical team.
Lifestyle Changes: Bi-weekly 1:1 video coaching sessions (with a real person, not a bot) through a structured, 52-week curriculum to set goals for the Four Pillars of Metabolic Health: food, sleep, exercise, and emotional health.
Tracking & Community: A digital product for daily tracking of food, energy level, weight, and bi-weekly goals, alongside community events and groups for support.
Midlife Health Concerns
No matter where you are in your motherhood journey, we've been there for you. Since we started back in 2007, many of our members are now in a different phase of life–hello menopause!
Menopause and perimenopause often result in weight gain. On average, women gain 2-5lbs during the perimenopause. Guess what? Women who were overweight are at risk of gaining MORE and also experiencing worse menopausal symptoms overall. Gaining this additional weight is serious—during menopause, women store fat in their midsection and this poses the biggest threat to metabolic health because it increases the risk of heart and blood vessel disease and type 2 diabetes.

It's a time where we often feel powerless in our bodies. Well, I'm not having any of that. I want us all to be strong, vibrant and supportive. A program like Calibrate treats us as whole women. It's a great time to reinvest in yourself. We've got a full life ahead and I want to be strong and healthy in this next chapter.
What to Expect
If you are ready to start the journey, you need to know all the facts upfront. When you are ready to commit to the year-long program, it's time to educate yourself on the pricing.
$135 a month through our payment partner Affirm
$1,620 one-time payment
$249 One-time Metabolic Health Assessment with a Calibrate doctor
Special Offer for the Momtrends Community
Momtrends readers can get $100 off throughout the month of January using code: Nicole100
I'm not hiding anything or trying to convince you to sneak this into your budget. I want you empowered and educated and ready to do the work. Learn more here: joincalibrate.com/pricing. 
This is a sponsored post.