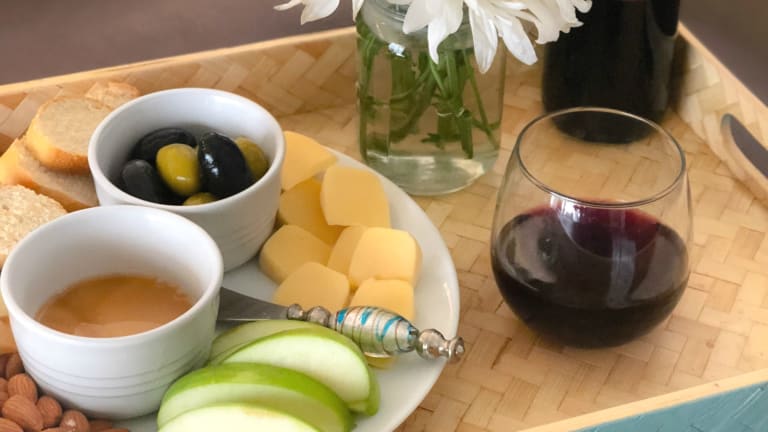 The Perfect Italian Wine and Cheese Plate for One
This post was sponsored by the Italian Trade Agency as part of an Influencer Activation for Influence Central and all opinions expressed in my post are my own.
I'm of the firm belief that you can't be any good in a relationship if you don't also focus on yourself. That means dating yourself every now and again. That is where the perfect Italian wine and cheese plate for one comes into play. You see, one of my favorite dates to plan for myself is some mindless entertainment like a tv binge sesh, a glass of wine and a cheese plate to go with it. Don't get me wrong. I love my family of course. I'm all too aware of how fleeting the time when my children are young is. That being said, if I don't carve out some quiet me time, I'm just not the best me I can be.
And that family of mine, they deserve the best! So, at least once a week, I pass bedtime off to the hubs for him to handle solo and I settle in for a little kids free R&R. And the wine that nearly always joins me is Italian. It could be because I'm part Italian and I'm naturally drawn to wine from that region. Or it could be because Italy just KNOWS wine and I appreciate a good glass. Either way, let's talk about why you should add a glass of Italian wine to your date night with yourself! Take it from someone with a wee bit of experience. Bwah!
The Perfect Italian Wine
Now even though I have Italian blood running through my veins, I haven't made the trip over there that I've been dreaming about for as long as I can remember. That will be changing very soon however. I've been planning an epic trip to celebrate my birthday and Tuscany is at the top of my must-see list! Not only is this beautiful part of Italy known for its sights, it's also Italy's sixth largest wine producer. The sheer volume and variety of Italian wines is some kind of amazing.
And while some of my favorite wine definitely comes from Tuscany, there are so many others to explore as well. You could, for example, indulge in a nice glass of bright, light-bodied Schiava. Hailing from the Trentino-Alto Adige region, the cotton-candy wine, as it's affectionately known, is the perfect partner for an appetizer featuring a soft cheese. This delicate, slightly candied wine paired with the floral and strawberry aromas makes for such a thrill!
Now you might not know that the Trentino-Alto Adige region is an Alpine climate that's mostly mountainous and known for its light-to-medium-bodied, bright reds that flow north to German-speaking countries. Only 15% off its land is arable due to the mountains, so growers in this region really emphasize quality over quantity. And who can't appreciate that? Give me quality over quantity any day! This top-notch wine producing region is proof that exploration is worth the effort. Don't give up your old favorites, but be willing to try something new too!
Like I said, I certainly love the more well-known Italian wines, but I thoroughly enjoy lesser known varietals as well. Look for the highly regarded St. Magdalener DOC, made from the above-mentioned Schiava grape, the next time you're wine shopping. It's particularly great as a chilled red wine for warmer days. won't be disappointed! Hey, I know you're going to want to enjoy more than one wine and cheese night in. Am I right? Just think about all those shows you've been waiting to binge. Bwah!

Ok, now that we've covered one of my favorite lesser-known wines, let's talk about my go-to. Give me a glass of ruby-red Chianti Classico and I'm a happy girl! You'll often find me picking up a bottle of this for my "me time." I can't get enough of the super smooth flavor. In no other country, that I can think of, can you truly taste the character of the territory like you can with Italy, but I digress... I also don't mind swapping out my cheese plate for one with strawberries and chocolate so I can sip on some bubbly Prosecco either, but I digress...Let's talk about that cheese plate for one!
The Perfect Cheese Plate for One
When you're building the perfect cheese plate for one, it's all about YOU! The cheese doesn't have to be perfectly cut, for example, because the only guest at this party of one is, you guessed it, YOU. Haha! Think about what you really like. What do you think will taste great with your Italian wine? Personally, I love gouda and Parmigiano Reggiano DOP, but there are so many cheese options out there, so you do you! With the cheese I add crisp apples, some nuts, a baguette if I'm feeling frisky, and honey for dipping. All the flavors blend beautifully together. Plus, my go-to cheese plate for one is special enough to make me really feel like I'm treating myself. As does the Chianti!
So, who else is ready to plan a date night with yourself that includes the perfect Italian wine and cheese plate for one? I knew you would be! Now I'm not recommending you down the whole bottle. Haha! We always advocate drinking responsibly. A glass or two, along with some tasty goodies courtesy of your cheese plate will be all you need! And on a side note...Once you've focused on yourself and gotten your me-time in, you'll probably be ready for a date night with your honey! Make sure you check out our fun date night printables! Or you could always pick up a bottle of Italian wine and make that cheese plate for two. I'm always down for a date night IN!
For more info on Italian wine, head over to this informative website, Facebook, Instagram or Twitter.
This is a sponsored post.