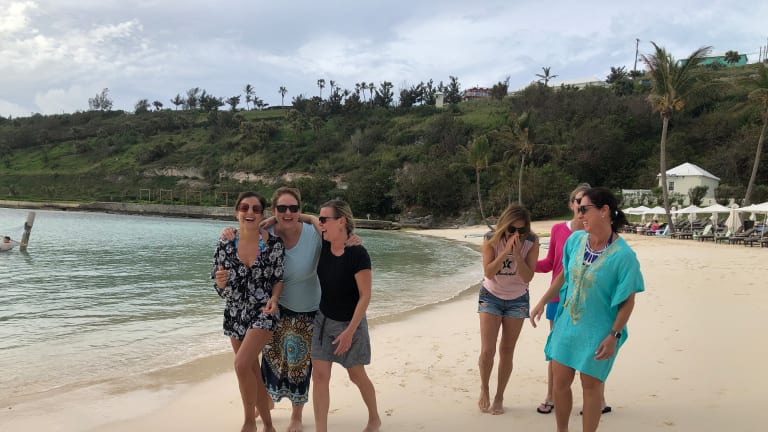 Is Menopause Why We Can't Sleep?
Why We Can't Sleep by Ada Calhoun is the perfect book for Gen X Women Facing Midlife
Everyone I know is turning 50 this year. Ok, that might be stretching it, but as a Gen X woman born in 1970, it sure seems this way. And for many of us, the arrival of a new decade is not being welcomed with balloons and confetti. It's a moment of pause (and menopause), reflection and for a quite a few, quite a bit of stress.
What if you aren't halfway done with what you wanted to do?
What if you aren't even close?
The Perfect Book For Gen X Women Facing Midlife
Ada Calhoun explores all of this in her new book Why We Can't Sleep. Ada and I crossed paths a few years ago in the online parenting world and I've followed her work for years. She's a talented writer and editor and I think her book is perfectly timed not only for me, but for a generation of women who are taking stock.
Before we get to why I feel this book is an important one, let me take on the critics. I've seen quite a few women criticize this book for erring on the side of navel-gazing. Let me say this, Calhoun owns her privilege. In fact, she frequently checks in with herself citing her education, health and means. When I wrote Mom Boss, I made the same concessions. My book could be a resource for single moms, but it was primarily targeting women with partners. Not every book needs to be for every person.
Ok, back to why this book matters.
As a Gen X, I am acutely aware of how our generation gets overlooked by the numerous and powerful Boomers and the noisy and plentiful Millennials. We are the generation (1965-1980) who kept our heads down and just got on with things. We weathered wars, recessions and the onslaught of ever-present technology.
According to an expert, Faith Popcorn, quoted in the book, Gen X Women:
"Have been hit hard, financially and dismissed culturally. They have tons of debt. They're squeezed on both sides by children and aging parents. The grim state of adulthood is hitting them hard. If they are exhausted and bewildered, they have every reason to feel that way."
Feeling the Gen X Crunch
Being relatively small in numbers and buying power, not many people pay us much attention. Now that we are turning 50, it's time to make some noise.
What I like about Why We Can't Sleep is that it's a powerful conversation starter. There are many parts I don't acutely feel, but more than I do. And one thing more women need is to give agency to our frustrations and feelings. Calhoun recognizes that many of us are far too busy for much introspection, of us she says "more often she sneaks her suffering in around the edges of caretaking and work."
I also love the power that Calhoun places on relationships. It's so true, my female friendships are one of the most sustaining sources of joy in my life. It's a great reminder to keep investing in these women ESPECIALLY as we take on midlife.
The numbers were pretty significant. It's lovely to see some of it's not all in my head, there are facts and figures to back up how I'm feeling.
Why You Should read Why We Can't Sleep
If you find yourself unsatisfied and searching for answers, you might not get all of them here, but you'll get a compassionate voice and you'll feel more justified in recognizing that you deserve to feel unsettled. In many ways, we've been given a raw deal, the trick is using the statistics (ours was one of the worst generations when it comes to economic growth) and personal accounts to help you on your path. We weren't born into abundance, so it's not surprising that we are dealing with scarcity.
Instead of feeling guilty about not achieving more, or stuck in our a job or life we don't feel fulfilled in, we need to find more sources of support and joy. Calhoun says, "It's about telling the story of our mistakes, our life, in a new way, in which we're heroines worth rooting for."
Menopause or Bust
In addition to being caught in an economic crunch, we are also smack-dab in the middle of physical changes. Menopause is a finally, finally something more of us are talking about. Calhoun takes on the changes in our bodies and minds. Just like when we were teens and hormones were partially responsible for how we behaved, we're right back in junior high being ½ rational beings and ½ fueled by the balance of testosterone and estrogen coursing through our veins at any given moment.
Here's what we know won't work: not talking about what's going on. Stewing (or sweating in the case of menopause) solo can damage our relationships at work and at home. I'm lucky to have a girl gang from Vanderbilt --women who have known and loved me since I was 17. These relationships more than anything else will get us through the next decade. 
Self-care and mediation can't fix everything. Sometimes you just need to vent with a girlfriend over a cup of tea. We all need safe spaces where we aren't judged on how we are taking on midlife, and I felt that safe space with my girlfriends and with Calhoun's book.
Nope, It's Not Just You
I loved Calhoun's dedication and I'd love for more women to pick up this book and know that they aren't alone. 
I'll end with an another quote from Calhoun:
"I see now, finally, a way out of our crisis. It begins with facing up to our lives as they really are, letting go of the expectations we had for ourselves growing up, and finishes with finding a viable support system and realizing that this stage of life doesn't last forever."
MORE HEALTH & WELLNESS ON MOMTRENDS
PIN IT
Use pinterest to save your favorite health and wellness articles.
Momtrends was not paid for this post.