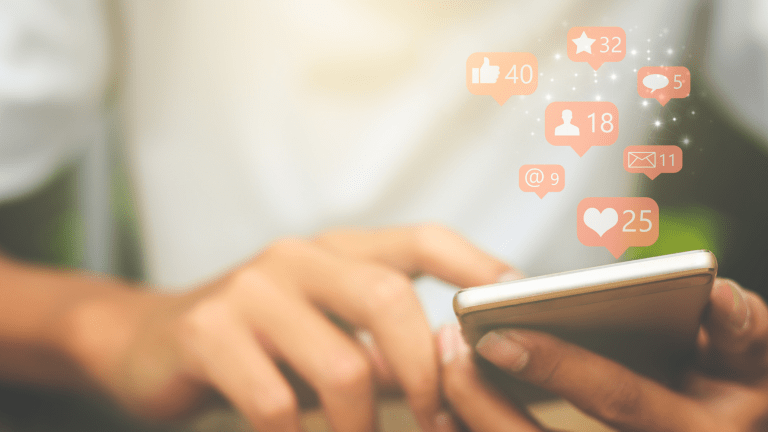 Is It Time for a Social Media Detox?
It's January--cleanse your mind of clutter and be more purposeful, why not consider an idea a social media detox.
According to the newly released Pinterest 100 report, global searches for "social media detox" are up a whopping 314%. 
January is often a time to reset and refocus. Many people start diets, begin exercise regimens and establish overall health goals. Others, choose to refrain from drinking alcohol throughout the month ("Dry January" is just the tip of the 'sober-curious' movement--but we'll save this eye-opening conversation starter for another day and a different post).
Related: Find out about the sober curious movement
Still, while we're thinking about ways to cleanse our bodies, why not consider an idea to detox our minds, too?
It's fair to say that our phones have become veritable appendages--we instinctually reach for them like Pavlov's dogs at the "ding" of a notification. It's (mostly) great that modern technology and digital media have made it possible to be available at any time and from any where. And we (mainly) benefit from the convenience of being able to work and text and email and chat whether we're at home, at work, traveling, or out and about running errands. But what if we try to limit our phone usage to these essential home-life and work-related activities? How about we try actively avoiding social media? 
A little patience, grace, and a few simple behavioral changes can help.
Don't get me wrong--we love social media here at Momtrends. It's kind of what we do. Still, as moms and media mavens, we strive, individually and collectively, to have a healthy relationship with social media (and to teach our kids to do the same), and this very well may call for a short hiatus and a little detox.
A few weeks ago, I lost my phone. I waited a few days to see if it would turn up before shelling out the Insurance deductible, and in that time I realized I don't really need to check Instagram or Facebook every five minutes. It's just habit--and one that was taking me away from giving my full attention to anything else: my kids, my house, my husband, my work. It only took about 48 hours to notice that this unintentional hiatus was a blessing in disguise. Once I got a new phone ($300 dollars later), I made a goal to continue to be more purposive and less compulsive in my daily social media usage.
So where does one start? How to we detox from the less desirable side effects of this daily habit. 
Time Block Your Social Media Usage
Social media can be a time suck and a rabbit hole. Avoid the traps of mindless scrolling and be more purposeful with your time. One way to do this is to set specific times for social-media usage and interaction; outside of these hours, avoid temptation. This might seem challenging--and, at first, it was for me, but then I found that doing this helped me make the most of my social media interactions. I was enjoying my time more, and being able to give my full attention to other tasks was a happy bonus.
Avoid Your Cell Phone For an Hour in the Morning
I use my cell phone as an alarm; I probably check the hour three to five times a night (or at least every time my baby wakes to feed). It's within arm's reach, so naturally the first thing I used to do in the morning--before I would even sit upright--is grab my phone and start scrolling. I'd check my email and text messages, and then immediately hop on social media. Why? I have no answer other than pure habit.
I'd get irritated by a political post at 7 a.m. or frustrated by a "friend's" condescending comment before breakfast. What an unpleasant way to start the day. 
Actively choose to not begin your morning with this type of negativity. Keep your phone off or in airplane mode. Have actual interactions with family members and friends in the morning instead. You just may find yourself in a better mood in the a.m. and beyond.
Turn Your Cell Phone Off an Hour Before Bed
Studies have shown that cell-pone usage before bed is tied to poorer quality sleep. The science behind this fact has a lot to do with lights and screens, but I would contest that social media plays a big part in this too. 
I know that I've been guilty of staying up later than intended "unwinding" by scrolling my social media feeds. But there are better ways to decompress at the end of a long day; deep breathing and meditation, reading, and chatting with you partner are just a few tactics.
Be More Mindful With Your Social Media Usage
More followers, more posts, more pages, more platforms--more is not always more. Quality over quantity. Pare down your friends' list so you're seeing the people you actually want to see from in your feed. Don't feel compelled to over-share every idea and thought and article; social media doesn't have to be your personal soap box. I, personally, take a Marie Kondo approach to posting and ask myself, "will sharing this bring me joy?" 
Use Private Photo-Sharing Tools
If you want to take a break from posting to your personal Instagram or Facebook, but like sharing pictures of you kids (or pets! or self!) with friends and loved ones, consider checking out a more private platform. Intimate photo sharing is a rising trend. The Pix-Star Snap app allows anyone to quickly and easily send pictures and videos between users.
Want more from Momtrends?
PIN IT!
Use Pinterest to save your favorite ideas from Momtrends. Be sure to follow our Fitness and health board here.
This is not a sponsored post