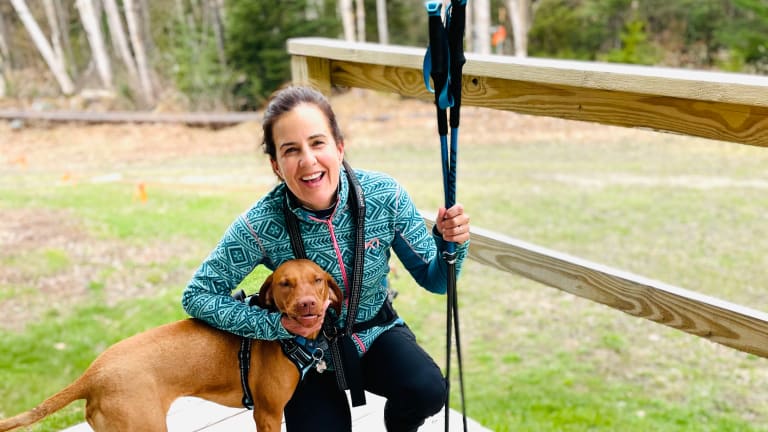 Is a Vizsla a Good Dog for Your Family?
Vizslas are wonderful and gorgeous dogs that require a ton of exercise and lot of time, do your research before you commit.
Long before COVID arrived, our family decided we were ready for a dog. I grew up with dogs and knew my girls would gain a lot from the experience of owning a pet. Vizslas are wonderful and gorgeous dogs that require a ton of exercise and lot of time. Like me, you might wonder, "Is a Vizsla a good dog for your family?" I'm here to help you make this big decision. 
Related: Finding the perfect dog crate
Why We Picked a Vizsla
First things first, make sure your family is ready for a puppy (more here), then you can think about the right breed. 
As I did my leg work on the right dog, I knew I wanted an active breed, a medium build and a dog that was devoted to family. A Vizsla definitely fit the bill. Since we were city folks, I decided to delay my impending dog ownership until I could be in a setting with more space for the dog to run. Once we relocated to Vermont, I put my name on a reputable breeder's list and waited until Kinglsey arrived into the world last summer.
Learn About the Vizsla
These gorgeous dogs have a long history of being faithful hunting partners. The Vizsla is a sporting breed dog that comes from Hungary. Its name means "searcher" or "tracker" in Hungarian. Many owners use these clever canines for bird hunting, then others (like my family) pick Vizslas to be partners on the trails.
The life expectancy is 12-15 years and they range in weight from 40-65 pounds (males are taller and heavier). Our Vizsla is on the smaller side for a male and at a year is 50 lbs. Breeders can give you more specific details on how large the parents are--ask lots of questions!
You can read all about them on the AKC website here.
We love that his ruddy short coat of fur is very low maintenance. We shower with him a few times a month and he never gets stinky. During the shedding months, we brush him a few times a week and that's it. Since we live in Vermont and it gets quite cold, we do have coats for him in the winter. The only grooming we pay for is nail trims which cost $10 every 4-5 weeks. All-in-all, not a lot of fussiness when it comes to appearances.
Gear We Love for Our Vizsla
Momtrends Special: Get a FREE bonus toy in your BarkBox toy and treat subscription here. Kingsley loves his!
Gear for Vizslas
Visit some Vizslas
Before I made my decision I spent plenty of time with the breed. One of my running buddies back home in Virginia owns a Vizsla. I ran with him several times and saw him interact with his owner and other dogs. I watched him interact with my family's labradors and keenly observed him near children. After that, I started watching the V's in the dog parks and assailing hiking families with V's in Vermont. In the end, I was completely smitten.
The name "velcro dog" has been given to the Vizsla for good reason. They prefer the company of others and are not good solitary animals. They love people and most are extremely friendly.  I have two teenage daughters and he's a perfect adventure partner for them. My older daughter has started to trail run with Kingsley and our younger one isn't quite strong enough to handle him with voice and leash, so she's on call for shorter walks.
Our V is extremely gentle with young children and old people. The being said, they are incredibly strong and fast, they are not ACTUAL lap dogs (though some V's forget this from time to time) and do need to be constantly minded when out and about.
My biggest takeaway for you from this article: They need plenty of exercise and attention. 
What Vizslas Need
5 miles of HARD exercise a day MINIMUM. I don't mean a leashed walk. This athletic dog craves hikes where he can roam and stretch his long legs. They are excellent running companions and can be trained to go for long distances. Without proper exercise, a Vizsla will get destructive. If your family can't commit to 2 hours of exercise a day, you might want to consider another breed. When fully grown and fit, a V can go for 10-15 miles in a day without feeling spent. BE PREPARED to stay in shape for your V.
Off leash time. Again, they need to run and they need to run safely. They are one of the fastest dog breeds in existence and can hit top speeds of 42 mph. They need a large fenced area to play or time in a supervised park (when they are trained on recall). Insider tip: Invest in a good GPS tracking collar for your dog.
Socialization. Vizslas love other dogs, especially other dogs that love to run and frolic. There are a number of national organizations that will help you find other V owners to plan excursions. Start with the Facebook.com/vizwhizzdogs/ group. 
Consistent Training. As I shared, these dogs are really fast. They can easily outrun you when they are just a few months old. Start with proper leash training and work on recall every day. They are smart dogs and will love spending time with you learning.
Plenty of attention. While I have heard of folks having 9-5 desk jobs and Vizslas, it's not a match made in heaven. I have a work-from-home set up and a dog walker a few days a week. This system assures maximum quality of life for the dog and his humans. His hobbies are loving on his people, playing with four-legged pals, hiking, running and napping. Spending time on solitary pursuits is not his favorite. When left alone or when he's not getting enough mental stimulation, he destroys toys and lots of them. Also. V's are known to be quite, um, VOCAL about being left alone. So if you have neighbors, make sure you work on separation issues early.
A healthy diet. While every dog deserves good food, V's are particularly deserving of quality chow since they workout so hard. Many owners swear by a raw diet. We do a mix of raw and kibble. I feel that if you spend $1-$2k on a dog, it's crazy to then skimp on nutrition. 
Insurance and a good vet. All that activity can lead to injury. Our guy has had his fair share of nicks and cuts from his time in the woods. It makes sense to carry pet insurance. And you'll want a vet that knows how to care for active breeds.
Check on the Spay/Neuter timeline: Many Vizsla breeders will require you to sign a contract about when you will spay/neuter. Our breeder required us to go a minimum of two years to allow for full growth plate setting. This might be an issue for some folks, do your research.
Vizslas are Absolutely the Best!
We love our boy so, so much. That's why we encourage you to look into the breed and learn more about them. Kingsley is a wonderful companion and a true athlete, he fits right into our family dynamic.
I do admit I get a little sad when I'm back in NYC and spot Vizslas at the dog park. While I'm sure they can find happiness in an urban setting, I think they are best suited to rural environments or the suburbs with plenty of planned playdates and hike. 
MORE PUPPY LOVE FROM MOMTRENDS
PIN IT!
Use Pinterest to save your favorite pet tips and be sure to follow Momtrends.
Momtrends was not paid for this post.