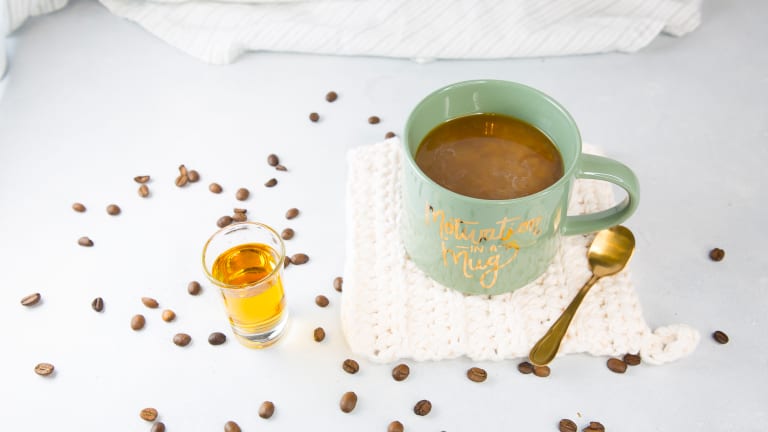 Irish Coffee Cocktail Recipe
Irish coffee is a delicious concoction of silky Bailey's Irish cream, coffee, and Irish whiskey.
Can you believe it's March already? I, for one, cannot!  Soon all the flowers will be blooming, and the drinks will get fruity and refreshingly cooler.  Getting excited?  Here's our Irish Coffee Cocktail Recipe.
I am!
First things first though, with St. Patrick's day coming up, I am featuring a classic Irish coffee cocktail this week, and (teaser alert) a boozy matcha shake next week.  
Yep, we are going green for a bit, ladies.
Related: Irish Soda Bread Muffin recipe
This particular coffee cocktail was a favorite of mine in college.  I went to school in the mountains where the temps were quite cold so anything warm I was all over.  
Especially after spending time on the slopes.  Luckily for me, there was an Irish Pub on my way home.  Irish coffee and shepherds pie was a ritual.
Irish coffee is a delicious concoction of: silky Bailey's Irish cream, coffee, and Irish whiskey.
I used Bailey's Vanilla Cinnamon because it really adds the coziness and decadence of the drink. Besides, a little cinnamon makes everything better. If you like regular Bailey's you can use that no problem. Your coffee, your prerogative.
Any Irish whiskey will work as well so don't feel pigeonholed into using my brands. These are merely what I like.
This cocktail can be made stronger, or weaker, catering to your taste. I tried to go middle ground here, but alter the ratios to your liking if you need to.
Ready to make your own mug?
Irish Coffee Cocktail Ingredients
8 ounces of your favorite brewed coffee
1 shot of Bailey's Vanilla Cinnamon
3/4 shot Irish Whiskey
Irish Coffee Cocktail Directions:
Add coffee to your favorite mug.  
Pour in the Bailey's and whiskey. 
 Stir.  
That's it. Your warm and cozy Irish Coffee is ready to be savored.  Enjoy! Happy Sipping!
MORE FUN COCKTAILS FROM MOMTRENDS
PIN IT!
For more fun recipe ideas, be sure to follow the Cocktail Chic board.
Want more Irish goodness? Try this Irish Soda Bread Recipe from 5MinutesforMom.com.
This is not a sponsored post.