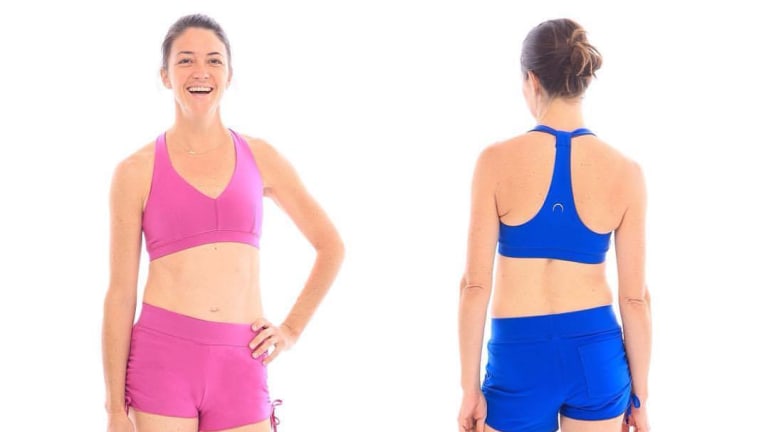 Publish date:
Hyde Yoga Shorts
We were lucky enough to get a preview of Hyde Yoga shorts and put them to the test.
We were lucky enough to get a preview of Hyde Yoga shorts and put them to the test.
Working out is not about wearing oversized t-shirts and old sweat pants. It's about comfort and even style to help you to perform your best. We were lucky enough to get a preview of Hyde Yoga shorts and put them to the test. They're one of our favorite things for Spring, but roll into a tiny package to throw on just before you hit your first down dog right now.
These shorts are super soft and comfy with a drawstring waist over an elastic band thick enough to avoid the dreaded muffin top and keep them up should the drawstring let you down. They have front pockets that are large enough to carry your house keys and some cash, but not so large that they get in the way while you're Yoga-ing. The pockets also give them a casual look that makes them translate well from the studio to the street, something we'??re always on the look out for. Our studio manager, Ashley loved the black as a quick, easy match for her Yoga wardrobe. I opted for the army green to suit my earthy Yoga duds and make them feel less like 'work-out' wear.
Yoga shorts tend to be super short which can be a "don't" for many of us and completely kill any possibility of wearing them to run errands after class. Here's the fix- these short come with a drawstring leg which allows you to vary the length and tightness of the leg. I tied them tight for class (no one wants to give it all away during a 3 legged dog'?¦) then loosened them for teaching clients after. They went from functional and slightly sassy to perfectly comfortable and stylish with the pull of a string.

5 Pretty Ways To Organize Your Jewelry
I admit - I'm guilt. Despite my best efforts, my "jewelry drawer" has become a tangled mess of necklaces, bracelets and earrings. This cluttered collection not only makes it hard to see what I have, but difficult to untangle the pieces I do want to wear! This summer, I'm ...read more
This Year's Coolest Jumbo Pool Floats
Pool season is almost here! I can't wait to relax, read a book, and sip a cocktail while lazily drifting in an oversized float. (Just kidding, I have two toddlers--but a swim mama can dream, right?). If you've got a staycation planned, check out this year's coolest jumbo pool ...read more
Crystal Clear and Pristine: Pool-Cleaning Tips
Tropical Storm Isaiah gave us quite the midsummer surprise here in the suburbs of New York City. We just got our power back on after a whole week of darkness! With trees down, debris everywhere, and lots of uncertainty, one thing we forgot to check on: our above ground Intex ...read more
The bottom line, I'd wear these on a weekend outing with the kids, hiking or of course to my favorite Yoga class. Go Hyde!
For additional information, please visit: yogahyde.com
MORE YOGA FROM MOMTRENDS
PIN IT!
Use Pinterest to save your favorite ideas from Momtrends. Be sure to follow our Fitness and health board here.
Momtrends was not paid for this post.