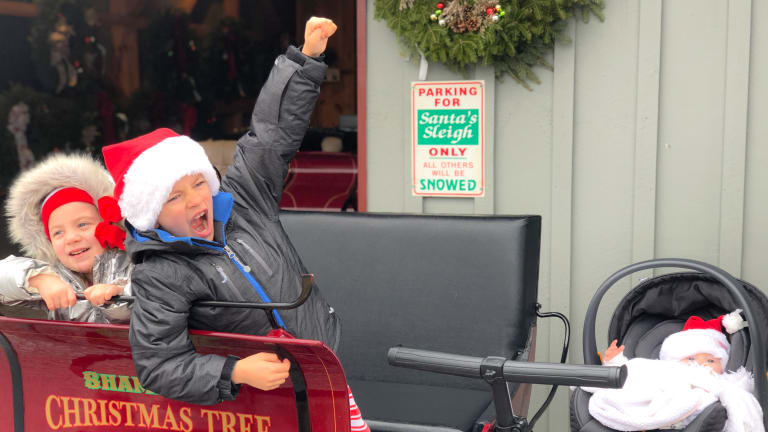 How Your Kids Can Be Holiday Helpers Around the House
Put Your Little Elves to Work
'Tis the season to be cooking and cleaning and wrapping and baking and coming and going and stressing. The holidays are hectic. And if your calendar looks anything like mine, you have school concerts and Cub Scouts caroling and cookie swaps and preschool playdates this week alone--and Christmas is still a full seven days away. Add in homework and chores and regular responsibilities, and it's hard to feel holly jolly and anxiety free right this merry-manic moment. So when my seven year old came home from class yesterday chatting about his special school assignment for the week, my eyes immediately glazed over with exhastion. Uh-oh. But turns out his teacher was also feeling the push, pull, and pressure--because his unique homework was to be my "holiday helper." 
Every day after school, he's supposed to help me with do holiday chores to spread seasonal cheer. This idea got me thinking: I work so hard to make Christmas magic happen for my kids, but I rarely ask them to be a part of making these magical moments happen. Maybe I'm going about this all wrong. The second I asked my kids to pitch in with some holiday-related tasks, they were enthusiastically on board. So I thought I'd share a few holiday-helper chores to put your little elves to work
Swap Out the Toys - Santa is about to bring a big bundle of shiny new toys and trinkets. Now is the time to make some space and clear out the clutter. I always take this time to donate a few barely used toys, but I usually do it in secrecy. This year, I asked my kids to each pick out one toy they'd like to give to someone else who really wanted and needed it, and I was floored and amazed by their kindness and willingness to give.
Make Personalized Cards - I'll tell you a secret: I hate buying greeting cards or labels for holiday gifts. They're overpriced or generic, and I think a homemade kiddie card is so much sweeter. The littles get so into their artistic contribution to gift giving--and, bonus crayons and creativity make for some quiet time. 
Wrap Presents - Okay, hear me out. They'll inevitably do a terrible job wrapping and ribboning, but there's no doubt your recipients will be totally charmed by the thoughtful iif not elegant effort.
Clean Their Rooms - Remind those messy monkeys that Santa Claus is watching, and you'll see them perform cleaning miracles. If you can't cash in the SC card for bed-making and room-tidying, then what's the point--am I right?
Want more from Momtrends?
1. 12 Tips for Cutting Down Your Christmas Tree
2. How to Stay Healthy Amidst the Hectic Holiday Madness
This is not a sponsored post.