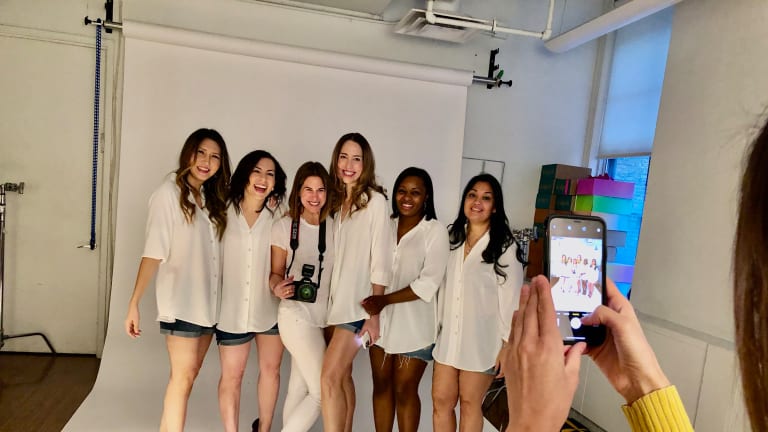 How You Celebrate International Women's Day Matters
Taking a moment to reflect on 100 years of progress for women and where we go next.
Eleanor Roosevelt said, "The future belongs to those who believe in the beauty of their dreams." This is what I want for myself and for my girls. Big, bold dreams and a fair shot. This is why how you celebrate International Women's Day matters. It's all about supporting dreamers and clearing a path. Today I am taking a moment to reflect on 100 years of progress for women and where we go next.
Related: Our favorite quotes for International Women's Day. 
How did Women's Day Start
According to Wikipedia, 1909 was the year of the first National Women's Day to honor the 1908 garment workers' strike in New York. Now 100+ years later, the day celebrates the social, economic, cultural and political achievements of women. As we celebrate and lift each other up, it's also a day to make our voice heard about the long list of things left to do.
A few fast facts:
Here's some good news: women comprise more than 56 percent of students on campuses nationwide. Clearly we are smart and capable. More females students equates to more opportunity.
More good news, there are more of us than ever governing. As of 2019, women occupy 126 (23.6%) of the 535 seats in the United States Congress (105 Democratic, 21 Republican). Yes, I know we don't have a female president (yet) but we are getting there.
What we are working on:
The global participation rate of women in national-level parliaments is 24.1%. In 2013, women accounted for 8% of all national leaders and 2% of all presidential posts. 
Action: Run for office, vote for women, give money to campaigns that support women.
Girls have 1.3 million fewer opportunities to play high school sports than boys have.
Action: Model the behavior (exercise with your kids and let them see you be active, coach or volunteer for sports, buy tickets to women's sporting events. 
In 2019, women earned 79 cents for every dollar earned by men.
Action: Demand your worth, share salary information, start your own company.
How I'm Celebrating
I've always been drawn to women in social media who look at this business as a collaboration, not a competition. Stella, from StylishlyStella.com organized a Women's Day photo shoot with the Nina brand. She coordinated five fearless social influencers for this fun photo shoot. Jen from Private Portraits took the photo at the Nina showroom studio. 
We are all in our 40's (they let me sneak in, I have nine months left to be 40!) and we are all entrepreneurs. This photo session shows that being strong can look so good on you. 
Nina gave us shoes (I'm wearing the Shari sandal) and jewelry and cabi gave us the shirts. Remember ladies, strong is beautiful!
Take inspiration today from the women doing things big and small to make the world better. At Momtrends, I use my work to talk about the possibilities (not limitations) of motherhood. I'm celebrating the women who helped get me where I am today and I'm encouraging my girls to dream big! Check out the finished project below and be sure to tap o the other influencers in the photo.
How Will You Celebrate International Women's Day?
Today is a day to celebrate how far we've come and to double down on efforts to get us where we are going. I'm was thrilled to team up with these female entrepreneurs, cabi and Nina to get the conversation started.
How will you celebrate the day?
MORE FROM MOMTRENDS
PIN IT!
Save your favorite quotes on Pinterest. Be sure to follow our Inspiring Quotes board here.