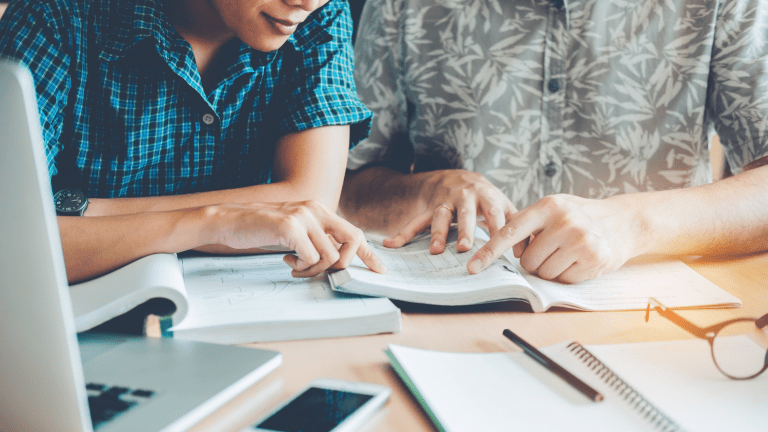 Life seems to be moving at warp speed right now. The long days of toddlerhood have disappeared and we are now in the presence of two thriving teen girls. We're starting to think beyond high school towards college--and that means talking about money. There are a lot of great resources out there and I'm here to help share how you can prepare your college student to thrive.
Related: Educate your children about sexual assault on campus.
Time to Start Reading
One of the best tools out there for college students is a new book by Jill and Dave Henry called The Greatest College Health Guide You Never Knew You Needed.
Heading off to college for the first time is quite the learning experience for most young adults. While there are a lot of things to get used to and figure out, one of the biggest adjustments to make is over money. 
Financial Help for Freshmen
Here are three ways entering college freshmen can better handle their financial situation.
Build a Budget: College is the perfect time to value frugality and start to master basic accounting. This nerdwallet article has some good ideas. I'm not talking about paying for tuition, instead, let's focus on living expenses. First figure out how much money you have coming in from grants, jobs, savings and family, then make a list of your expenses. Then the fun part--seeing if they match up and trimming where necessary.
Get a part-time job: After you've built that budget, you may see some HUGE gaps. It might be time to look into a part-time job. I suggested waiting until after your first semester once you are comfortable in your new school, surroundings and lifestyle. Getting a part-time job will not only give you some extra cash but it will give you a sense of independence from relying on mom and dad or anyone else. It also instills responsibility.
Manage Impulses: Now that you've got a budget and know your inflows, it's time to control the outflows. One trick they offer is the sticky note trick: When the urge to buy something strikes, write it down on a sticky note. Then wait three days. This will force kids to wait a bit to "assess how badly they want it"

Save Money at a Ski Swap
Are the slopes in your future? If you want to save money on ski gear, consider a ski swap. A swap is a great way to buy and sell used equipment. Most swaps consist of a variety of gear, from brand new to used skis and snowboards to skis; from poles to boots to bindings and ...read more
The Ten Best Wooden Play Kitchens For Kids
Cooking is a timeless fascination for children. This type of play goes beyond gender and teaches kids loads of life skills along the way. An investment in a play kitchen is money well spent, as it can provide hours of entertainment. We've rounded up the ten best wooden play ...read more
New Victory Announces a New Season of Shows
We know you're busy planning picnics and summer outings, but we wanted to let you know that The New Victory just announced their new season and it looks fantastic. We thought you'd like a sneak peek of what's in store! Each year the New Vic theater brings culture to tourists and ...read more
The book is full of no-nonsense advice aimed to get kids prepped quickly. Most of the above tips are from the book. Over 30% of college students carry more than $1000 in credit card debt. Most debt is result of impulse spending. 
While a Target run might feel like the most important thing you do before drop off, I'd invest in this book for both kids and parents.
MORE HELP GETTING READY FOR COLLEGE
PIN IT!
Use Pinterest to save your favorite recipes. Be sure to follow our Moms' guide to college board for more tips.
Momtrends was not paid for this post.