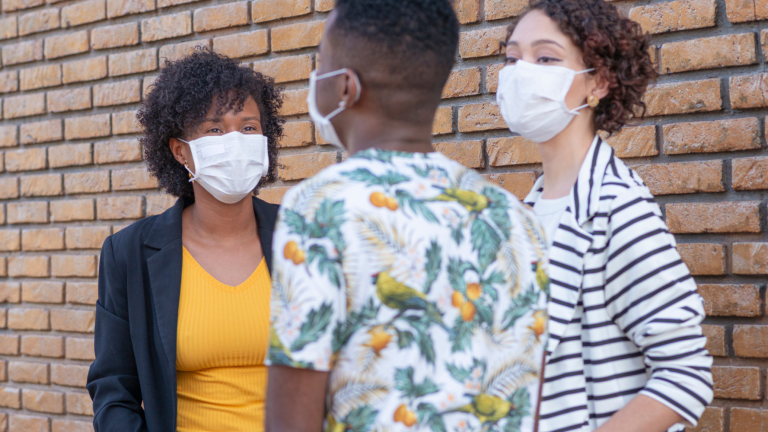 How to Transition Back into the World Again
As we get ready for a post-pandemic world it's time to give yourself and your friends some space and grace as we re-enter society.
A few days ago, a friend lovingly referred to me as a "shut-in." 
I started to laugh, but then I stopped: "Wait, is that what I am now?"
The truth is: while many others have ventured out and accepted the risks that come with living life and maintaining some semblance of normalcy during the COVID-19 pandemic, I have remained very, very cautious. I really don't go to stores. I haven't been to a restaurant in over a year. I won't allow my children to attend or host indoor play dates. We don't do parties -- or indoor anything without anyone outside our immediate circle. It's a bummer, for sure, but I have accepted that these sacrifices were small prices to pay for our safety, our health, and our community at large.
Related: Clear the physical and mental clutter
But here we are now in the spring of 2021; all adults are eligible for vaccines, and opportunities are opening again. I, too, am feeling the itch to reenter civilization -- to go back to seeing people, talking to people, hugging people. But I'm also very nervous. This all seems incredibly daunting. 
I'm not one of those people who can flip a light switch and change -- for me, I need a gradual transition. And it might be the same for you, too. So show yourself some grace. If you are able to do an overnight 180, good for you; just show others ("shut-ins" like me) some patience. Meanwhile, here are some considerations to keep in mind:
Take it slow
This is a marathon, not a race. For the last 15 months, we've been confined to our homes, and limited in our social circles. You can be gradual in your re-entry. Try going to the grocery store one day. Have an outdoor meal with a family member the next. Hang out with one vaccinated friend at a time for a bit. If all of these options sound overwhelming, remember you don't have to do all the things, all at once.
Show empathy
Everyone is coming from different places right now. Some of us are nervous and hesitant, others are totally ready to resume real life. Both perspectives are totally understandable. Now more than ever it's important to show empathy for one another and respect each other's boundaries. 
Remember the kids
While those of us who are vaccinated may be able to start resuming regular activities, our children do not have that privilege quite yet. Be mindful in group activities and gatherings. As we enter the warmer seasons, you may be more inclined to keep things outdoors -- and that's still fine. Kids are generally considered low-risk, but it's important to evaluate your child's unique situation and make decisions that work for your family.
Continue doing your thing
We may see the light at the end of the tunnel, but now is not the time to throw in the towel. Even if you start to feel more comfortable around people (that's great!), remember to continue social distancing and wear a mask in public indoor settings.
Talk to someone
If you are having a hard time adjusting to this even newer normal, it might be beneficial to talk to a professional. The COVID-19 pandemic has taken a mental toll on everyone -- and there's no shame in seeking help ever.
Want more from Momtrends?
Pin it! 
Use Pinterest to save your favorite posts. Be sure to follow our Fitness & Health board here.
This is not a sponsored post.