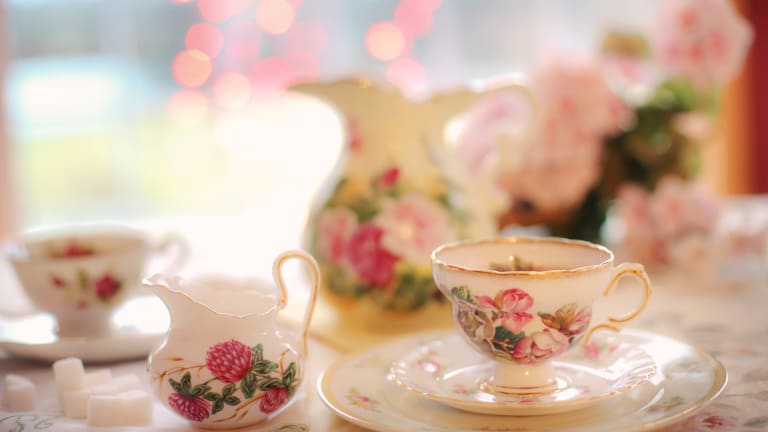 How to Throw a Proper Afternoon Tea Party
Tips on how to throw your own classic tea party and a little background on how afternoon tea came to be.
If you have a little lady at home, chances are you've been part of a tea party or two. And even if you don't, you may simply love having a nice spot of tea like I do. Well, if you see a tea party in your near future, this post if for you. Wouldn't you like to know how to throw a proper afternoon tea? 
Related: Classic English tea party sandwich recipes
I have to admit, my tea party's are most definitely not proper. We're usually on a picnic blanket surrounded by stuffed animals...Or it's just me, my sister, a couple cups of tea and some Fresh Florida strawberries...But a girl can dream about a proper afternoon tea party right? Haha!
Tips for Throwing an Afternoon Tea Party
Here are some tips on how to throw your own classic tea party and a little background on how afternoon tea came to be...Traditionally... 'at half past three everything stops for tea.'
Facts About Tea Time
Tea consumption increased dramatically during the early nineteenth century, and it was around this time that Anna, the 7th Duchess of Bedford, is said to have complained of "having that sinking feeling" during the late afternoon . At the time it was normal for people to take only two main meals a day, breakfast in the morning and dinner at around 8 in the evening.
The solution for the Duchess was a pot of tea and a light snack, taken privately in her boudoir during the afternoon Later friends were invited to join her in her rooms at Woburn Abbey over the summer, and the practice proved so popular that the Duchess continued it when she returned to London, sending cards to her friends asking them to join her for "tea and walking the fields." Other social hostesses quickly picked up on the idea and the practice became respectable enough to move it into the drawing room.
What to Serve at Tea
Here are some suggestions on what to serve at your afternoon tea from London area experts:
Conrad London St. James (answers provided by Executive Pastry Chef at Emmeline's Lounge):
White and green teas should be served between 75 and 90 degrees, while black teas taste their best after being steeped in water just over 90 degrees.
Warm and light scones with strawberry jam are a must.
Play up the classic jam flavour expectations such as cucumber by adding mint or curing it with gin and juniper.
Recognized as one of London's top afternoon tea destinations, Conrad London St. James introduced a fully redesigned afternoon tea menu for 2015, including an Easter Sunday Afternoon Tea, a Mother's Day Afternoon Tea, an Alice in Wonderland inspired Afternoon Tea and more.
When to Serve Tea
London Hilton on Park Lane (answers provided by Chefs from the Podium Restaurant and Bar in the hotel):
Holidays and events like Valentine's Day and Wimbledon are celebrated with afternoon tea, so next time you're planning to celebrate a holiday swap out the champagne and cake for tea and scones
Traditionally tea was served at 16:00 (4 p.m.) to bridge the gap between lunch and the evening meal which was often served at 20:00 (8 p.m.)
However, due to its ever-growing popularity of afternoon tea, properties now serve this offering from 2-6 p.m.
You can enjoy the revamped Confessions of a Chocoholic Afternoon Tea, in which visitors are presented with a tiered stand offering freshly baked chocolate chip scones served with chocolate praline spread, cupcakes and miniature chocolate fancies displayed on an edible chocolate plate accompanied by teas from Harney & Sons that have been specially blended for Hilton Hotels, from Earl Grey Tea infused with lavender and blue cornflowers to White Tea picked at dawn. As a proud member of The Tea Guild, Podium's afternoon tea is recognized as offering an exceptional standard of tea service.
MORE THINGS MOMTRENDS LOVES ABOUT ENGLAND
PIN IT!
Save your favorite travel and party ideas on Pinterest. Be sure to follow our Travel board here.
Momtrends was not paid for this post.