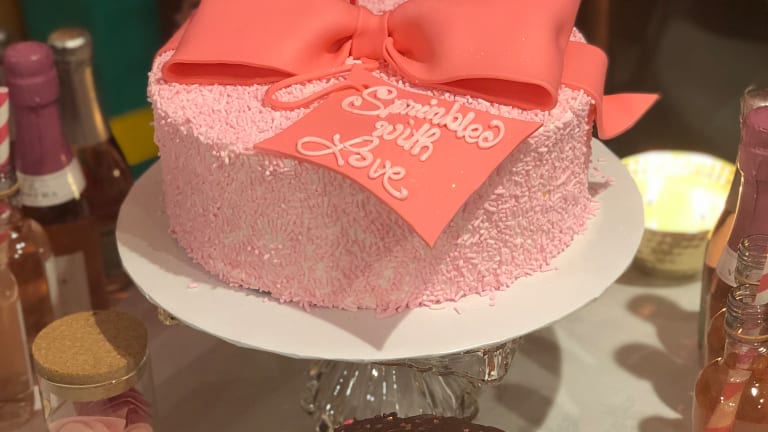 How to Throw a Low-Key Baby Sprinkle
It's been nearly five years since my last pregnancy--and seven since my baby shower. Still, when my mom suggested a baby shower for this surprise (yes, I'll admit it) third bebe, I refused. I was insistent--been there, done that. No more presents, no silly games, no over-the-top celebratory decor or shower theme. This wasn't my first rodeo, after all. 
But with low-key promises, I eventually caved to the idea of a sprinkle--a mini gathering to celebrate love, life, and the little one on its way. 
Make It a Brunch
You can keep things simple, classy, and, yes, frugal by serving up a light breakfast or early lunch. Bagels with fixings, cold cuts, deviled eggs, some quartered muffins and quiche make a nice spread for hungry guests. 
Keep the centerpiece for the table simple and sweet--no need for elaborate diaper cakes! This balloon-letter inspired mini statue expresses the perfect sentiment for the occasion.
At another table, a teapot filled with Baby's Breath flowers (another frugal but pretty touch) makes a lovely statement next to our Sonnenglas mason jar. The solar panel lid contains LEDs that you can light up when the sun goes down or indoors. In other words, it brings sunshine inside.
The Cake Is the Focal Point
Don't go overboard with desserts. This beautiful cake was the focal point of the dessert table and the whole party. Surrounded by miniature bottles of rosé and on a table adorned with a few pink balloons.  
Keep the Activities to a Minimum
A first baby shower is the appropriate time for crazy games and shenanigans. Instead, keep the activities to a minimum. Fill a jar with "petals" and ask guests to write advice, tips, or messages of love for the new baby.
Color-inspired candy bags are a sweet idea, but we loved the idea of letting guests fill their treat bags with pink goodies they made themselves.
Keep the Gifting to a Minimum
If you want and need present, enjoy this moment. But if it is not your first shower and you want to avoid gifting, encourage guests to bring books to build a new library for the baby. And, of course, homemade gifties are alway welcome.
This is not a sponsored post