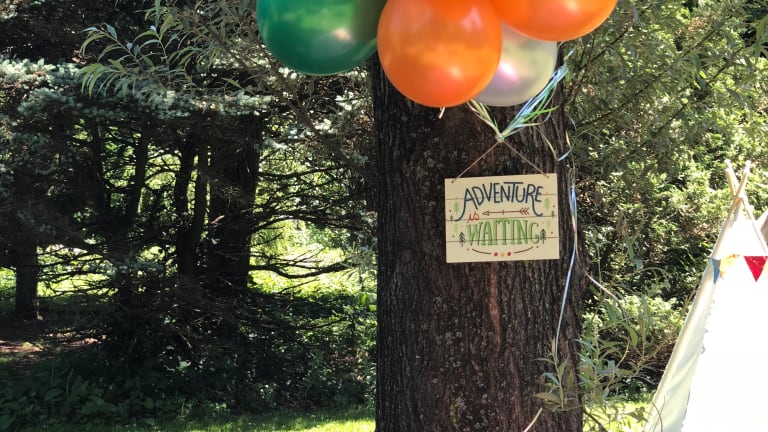 How to Throw a Camping Themed Birthday Party
My little guy will be turning six years old in a few short weeks. I can hardly believe it--where has the time gone? He graduated Kindergarten and is growing up way too fast on me. I need to seize this time and soak in every moment of his sweetness. 
This notion is exactly why I decided to throw him an extra-special birthday party this year--something different and unique (no more bounce-house trampoline parties!) and a celebration of the things he, at almost six, loves and enjoys.
Grant talks a lot about going camping. We've never gone (ha!), but he dreams about sleeping in a tent under the stars, roasting marshmallows, and telling endless stories by the fire. I decided to make this fantasy a reality--more or less--with a few of his favorite friends. 
It's a great party theme for adventurous outdoor-loving kiddos, and it was fairly easy to put together. But best of all, the children had the greatest time at #CampGrant.
Thinking about throwing a camping-themed birthday party for your little one? Here are some fun ideas.
Find a Woodsy Location
I decided I didn't want to host this party in my backyard, so I started looking into local parks and fields. I was delighted to discover that we could rent out a space at our beloved local arboretum. We had the entire Children's Habitat at Bailey's Arboretum to ourselves for three hours. (If you're a Long Islander, I can't recommend this spot enough. And, BTW, it was a steal.) Outfitted with wooden picnic tables, benches, Adirondack chairs, a wooden playhouse, and more this magical little gem of a spot is equal parts fairy tale forrest and rustic camp ground.
Get Some Fun Decorations
I started planning this party before Target launched an adventure-inspired collection in the Bullseye Playground. But, yes, it was a happy coincidence, when I found ceramic centerpieces, a plush faux fire and s'mores kit, signs, and other decorative touches in the dollar section of my local store. Hoorah! I scoured Amazon for a plain canvas tee-pee tent that would look the part and set the scene without breaking the bank, and I think I succeeded.
Prepare a Nature Scavenger Hunt
When the kids walked in, we handed them each a small brown bag with a printed nature scavenger hunt list on the front. Inside the bag, was a "tree bark pencil." They spent the first 30 minutes running around an open field finding everything from pine cones to leaves to flowers and more.
Play Some Games
I wanted everything to blend into the already beautiful backdrop, so I kept most of the decor and games wooden. We got a corn-hole game that the kids loved, a ring toss, and a burlap tic-tac-toe rug. When the kids wanted a break from running around like crazies in the heat, they would play some games to cool off.
Camping Relay Races
What would #CampGrant be without relay races? I found these sleeping-bag potato sacks on Oriental Trading (although they look more like colorful sushi rolls if you ask me). Still, they served their purpose and the kids were in hysterics hopping from the starting point to the finish line. I snagged colorful three-legged race binding bands, which were good for little ankles; and our tug-of-war rope was a little too short, but it was still fun for a few kids to play with at a time. Finally, instead of egg-in-spoon races, we did marshmallow-in-spoon races. 
Go All Out on the Cake
We kept the food pretty simple--a picnic inspired menu that was easy to prepare, serve and clean. But we didn't skimp on the dessert and went all out with phenomenal cake from Saint Honore in Port Washington, New York (another tip for any LI readers). My son actually drew what he wanted his cake to look like, and we took it to the bakery for them to interpret and transform into a culinary, sugary masterpiece. 
Make a Crafting Station
It was a hot day so I knew the kids would need some down time from all the fun and games. I put out this big picnic blanket and declared this space our crafting corner. I loved these camp-fire and marshmallow crowns from Oriental Trading. They were easy to make and the kids all looked so cute racing around in their crown creations.
Don't Forget the S'mores
We weren't allowed to have an open flame in the arboretum, so I had to get creative with s'mores (you just can't have a camping party without them). So when I spotted these Camp Fire Bars at Trader Joe's, I knew I found the perfect favor. (Sorry parents, more goodies to bring home!)
So there you have it; a few super cute camp-inspired ideas for a special outdoor birthday party. Pin this post and get planning. Enjoy!
This is not a sponsored post. It contains affiliate links.