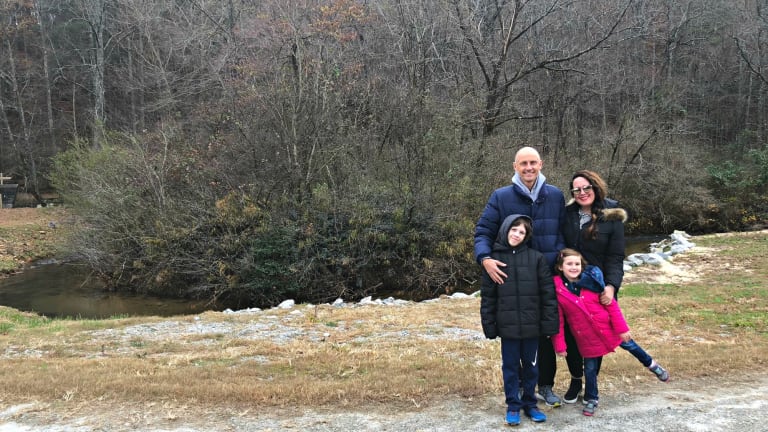 How to Teach Kids to Give Back: #GivingOnUs
This time of year you hear so much about gratitude, but it's important we do more than just talk about it. That's why I'm going to share my thoughts on how to teach kids to give back. They're the future after all! And with Thanksgiving having just ended, an attitude of gratitude is certainly top of mind in our household.  In fact, this year we sat around the table and wrote what we were thankful for on little feathers that we tucked into a cutesy turkey so we could look at them throughout the day and bask in the glow of our blessings!
And while I am thankful for SO many things and thoroughly enjoyed sharing my blessings with my family, I really reveled in my children expressing theirs. Watching them seriously think about what they were grateful for was such a gift. Seeing those little wheels spinning not about what they wanted, but what they have received was something to behold. And I want those warm and fuzzies to keep on going all season long, so we're going to do something for Giving Tuesday together this year.
Teach Your Child About Giving
You see my kids are blessed. They have a safe, warm place to sleep. They have plenty of food in their bellies. And they have parents who would do anything for them. While my husband and I try to show them the importance of empathy and giving back, they're hands-on learners. They are very empathetic little souls, but I don't feel like you can truly understand how fortunate you are until you understand how you can affect someone else's life by giving back. Seeing the children who aren't hungry thanks to the food you collected. Or seeing tears of gratitude in the eyes of a mother who will be able to put something under the Christmas tree thanks to the toys you donated. Those things stick.
I truly believe that the act of actually doing is the most important thing you can do to teach your child about giving. So, this year for Giving Tuesday, my children and I will be taking food, clothing and holiday gift donations to our local ministry together. And we will talk about how we have to take care of each other as citizens of this world. Putting a face to the struggle always has the biggest impact and I know that when we're rounding up more donations for Christmas, I think the importance of giving back will resonate with my children even more!
T-Mobile Gives Back Too
Along that giving vein, I think it's important for your kids to see you supporting companies who give back too. Because using their brand power to do good is sending an important message as well! One company who is doing just that is T-Mobile. They've actually earmarked 2 million dollars for Giving Tuesday and they're leaving it up to us, the customer, and their employees to decide where the money goes. How cool is that?!
If you're a T-Mobile customer you will have the opportunity to give 10 meals to Feeding America through the T-Mobile Tuesday app today, 11/27. AND  you'll have the chance to to win the opportunity for T-Mobile to donate $25, $100 and up to $500 to your favorite charity. Their spreading the love to their employees too. They will each get $27 to donate to their charity of choice. The T-Mobile #GivingOnUs mission is such an inspiration! Do you feel it? Well, here's something you can do right away...Every time you retweet a tweet with the #GivingOnUs hashtag, T-Mobile will donate 10 more meals to Feeding America. A click of your mouse could feed an entire family!
#GivingOnUS Twitter Party
For more ways to give back, join us on 11/29 at 9pm ET for our #GivingOnUs Twitter party! 5 lucky winners will walk away with a $100 Benevity code that will allow them to donate to a charity of their choosing! Don't forget to RSVP below to be eligible to WIN!
For the full party rules, head here.
Before you go, as you think about how to teach your kids to give back this year, I urge you to check out our tips for how to raise gracious kids!
This post is sponsored by T-Mobile.