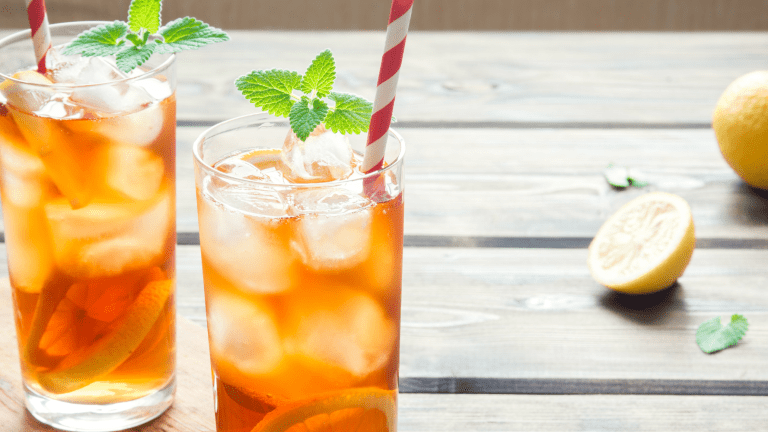 Publish date:
How to Take Your Iced Tea Up a Notch
Twists on the classic iced tea drink. Favorite recipes for the hottest days of summer.
Twists on the classic iced tea drink. Favorite recipes for the hottest days of summer.
Nothing quite quenches my thirst on a long hot summer day like a crisp, cold glass of iced tea. It's my go-to refreshment, and I like to have a pitcher at the ready should hot and parched guests appear at my front door (or should the mailman be in need of a cool-down and momentary reprieve from the sun and heat.) 
I prefer my traditional black iced tea unsweetened, but I switch it up every day--green tea, with agave syrup, with lemonade mixed in, spiked with a shot of vodka... you name it, I'll give it a go in the name of refreshment. 
I know I'm not the only enthusiast (our own Nicole is hooked!), I thought I'd round up a few favorite ways to up the ante.
Mint Iced Tea With Blueberry-Lemonade Cubes
This sweet drink is a perfect mocktail for parties or everyday occasions.
We love the Southern twist on this iced tea.

5 Pretty Ways To Organize Your Jewelry
I admit - I'm guilt. Despite my best efforts, my "jewelry drawer" has become a tangled mess of necklaces, bracelets and earrings. This cluttered collection not only makes it hard to see what I have, but difficult to untangle the pieces I do want to wear! This summer, I'm ...read more
This Year's Coolest Jumbo Pool Floats
Pool season is almost here! I can't wait to relax, read a book, and sip a cocktail while lazily drifting in an oversized float. (Just kidding, I have two toddlers--but a swim mama can dream, right?). If you've got a staycation planned, check out this year's coolest jumbo pool ...read more
Crystal Clear and Pristine: Pool-Cleaning Tips
Tropical Storm Isaiah gave us quite the midsummer surprise here in the suburbs of New York City. We just got our power back on after a whole week of darkness! With trees down, debris everywhere, and lots of uncertainty, one thing we forgot to check on: our above ground Intex ...read more
A freshly brewed, ready-to-pour black Darjeeling tea with hints of hibiscus, lemon peel, and a splash of strawberry and agave is the base of this fun summer cocktail.
This one is a classic refreshing drink and we've made it into an adult version.
Which one will you try first? If you want to see more of our iced tea inspiration, check out this video.
MORE FOOD IDEAS FROM MOMTRENDS
PIN IT!
Be sure to follow our Pinterest page for tea lovers to get more inspiration: Follow our Tea Lovers board on Pinterest.
This is not a sponsored post