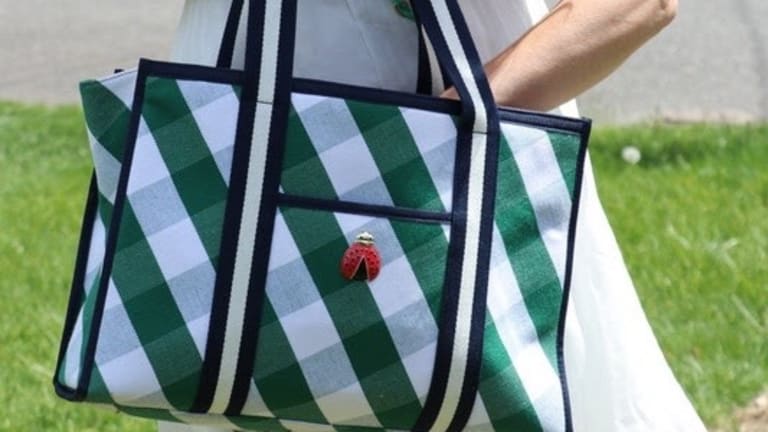 Hello Gingham
Spring Style Trend for Moms
If I have to pick one quintessential look, one style that nods its perky head and is a sure sign of warmer temps, I would choose gingham every time. Gingham is always on trend as those sweet checks just bring every occasion justice with a heavy does of cheer. Gingham abounds this spring and I am loving it in the details as well as in the accessory department. I have my eye on this cute black and white gingham number and it's calling my name. 
I love playing with accessories and know that they can transform your look. This lightweight somewhat bohemian Libby Edelman dress was a blank slate, ready for me to put my own stamp on it. I balanced the boho flow of the dress with on-trend preppy green and white gingham to give the look a sweet, and classic ladylike vibe, perfect for an outdoor occasion. The whimsical mixed hemline of the dress gives it interest while offering coverage with style. The sandals boast a slight (metallic) wedge and the tie ribbon chain necklace work well together to play off the bolder gingham pattern of the tote.  The tote is my everything lately, neatly stowing all that I need to carry around without looking like luggage. And there's a ladybug pinned to the front... need I say more?
For a casual everyday look, I paired these classic denim with irresistible gingham ankle-tie details in navy and white, with a poppy red tee and my favorite medallion and pom-pom bib necklace. The sleeve detail is still huge and I loved combining two trends in one easy-to-wear shirt. (You can't tell from the photo, but the neck ties in the back in a gingham accent bow--perfect for ponytail days!) 
I have rounded up a few of my gingham faves. Whether you choose red, navy or classic black, gingham is a spring trend that will carry you effortlessly into summer. 
1. Gingham Sneaks 2. Liz Claiborne Wallet 3. Gap smocked off the shoulder top 4.Gingham tie waist jumpsuit 5. knot front peplum top 6. Modcloth drop earrings       7. Shorts 8. Pebble Flower Belt 9. Halter Top 10. Romper
This is not a sponsored post. Samples were received. All opinions expressed are our own.  Some affiliates links may appear in the post.