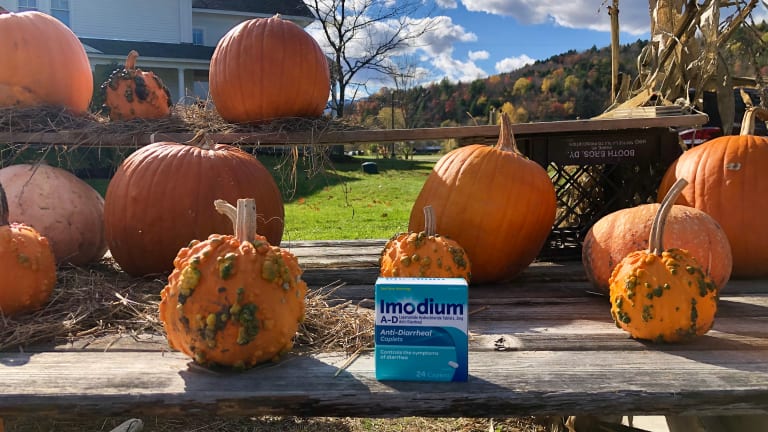 How to Stay Comfortable and Prepared During Fall Travel
IMODIUM® A-D Caplets have my family covered as I explore the best of Vermont this fall.
This post was written in partnership with IMODIUM®.
We're all trying to keep our families healthy while we enjoy the best of autumn. Plans have been cancelled left and right, so we've started looking into creative ways we can have fun locally. To this end, we've started embracing the joy of day trips in our new state of Vermont and making sure we've packed all of our travel essentials beforehand has become the key to ensuring we'll have a fun trip! So today, I want to share some tips on how I keep my family comfortable and prepared during fall travel.
How to Stay Comfortable and Prepared During Fall Travel
In my spirit, I'm a traveler and an explorer. I love tasting all the things and seeing all the sights. This year, it's been harder to stay home without scratching that travel itch, so we had to get creative so I could get my fix in! Luckily, one of the ways I've been able to explore while keeping my family safe & healthy is through planning numerous day trips around our new home state of Vermont!
I love being a tourist in my own state and with all the new foods and activities there are to taste and explore, I know that IMODIUM® A-D Caplets have my family covered. Our road trips are allowing us to see the best of Vermont and enjoy delicious treats like cider donuts, grilled cheddar cheese and apple sandwiches, and hard cider along the way.
Momtrends Tips for Road Tripping this Fall
Pack a road trip bag (see below).
Plan your route. Check drive times on your favorite app and be sure to map out bathroom breaks. If you have kids, it's important to find clean bathrooms along your route.
Research your destination. Some of our favorite farmer's markets aren't allowing dogs or kids this fall. Rather than disappointing my pup and girls, I'm emailing and calling ahead to verify safety measures.
Have a back-up plan. We recently planned an apple-picking adventure, but after a health warning, we reworked our Sunday outing to a hike and trip to a pumpkin patch. 
How to Pack Your Road Trip Bag
My "road trip" bag now includes masks, hand sanitizer, water and IMODIUM® A-D Caplets. Having these essentials on hand lets me know that when I stop at open-air markets and head to the pumpkin patch, I can be comfortable and prepared. IMODIUM® is the #1 doctor-recommended brand of over-the-counter antidiarrheal medicine. IMODIUM® A-D Caplets are my choice for on-the-go relief so I don't have to miss out on a moment of exploring my new state.
How  IMODIUM® A-D works
IMODIUM® A-D Caplets start to work in just one hour with one dose. Since my girls are older now (12 and 15) we only need to keep one box on hand. They are perfect for even milder bouts of diarrhea (like when I overindulge on pumpkin spice muffins). They work by regulating your digestive track to get it back to its normal pace, if certain foods cause it to act up.
Having the right product on hand to take care of my family's tummy woes allows us to focus on the fun of fall.
Momtrends note: For kids 6-11, try the IMODIUM® A-D Oral Solution. It's a liquid to treat diarrhea and keep kids hydrated.
Before you head out on your fall adventures, be sure to head to Target.com to snag a box today.
For more information on IMODIUM® products, visit www.Imodium.com