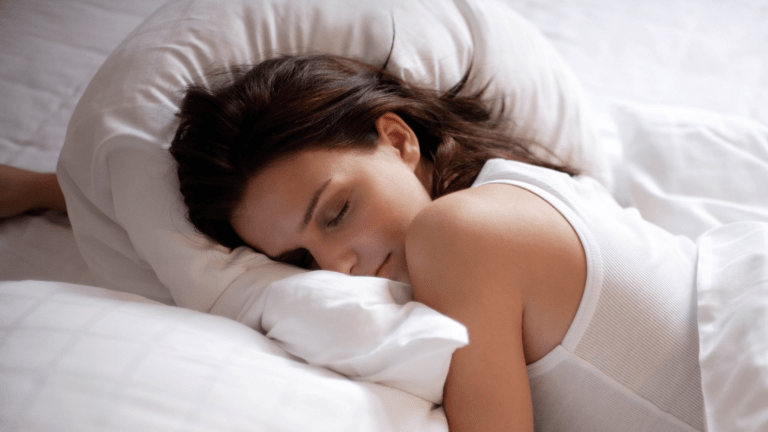 Publish date:
How to Get Better Sleep on Hot, Sweaty Nights
Even when there is a heat wave, there are ways you can improve your sleep quality for a better, more restful night.
Even when there is a heat wave, there are ways you can improve your sleep quality for a better, more restful night.
As temperatures rise, it can be harder to fall and stay asleep. It's not like in the fall when you have that perfect cross breeze keeping you cool and comfy under the covers. Sweltering heat and humidity and artificial AC air certainly don't help. But there are ways you can improve your sleep quality (and quantity) for a better, more restful night. 
Related: How to get the beauty sleep you so deeply need
Six Tips for Getting to Sleep on Hot Nights
Cover the windows. Closing the windows and curtains in your bedroom keeps out heat during the day–wait until sunset before you open them!
Stay low. The closer you are to the ground, the colder the air. The colder the air, the better you'll sleep.
Cotton is king. Always opt for pure cotton bedding and sleepwear for a cooler sleep; a loose t-shirt and shorts are the perfect combo...unless you like to sleep naked, then just go for it!
Be a loner. There's no time for cuddling during a hot night because body heat transfers. Avoid touching your partner while sleeping or opt for separate comforters (or beds).
H2O. Hydrate throughout the day in preparation for a hot night to help your body regulate its temperature for a cooler sleep.
If all else fails, turn to ice. Cold showers before bed are refreshing and cool you off. Keep a glass of ice next to you, and dab your wrists and neck to cool down.

5 Pretty Ways To Organize Your Jewelry
I admit - I'm guilt. Despite my best efforts, my "jewelry drawer" has become a tangled mess of necklaces, bracelets and earrings. This cluttered collection not only makes it hard to see what I have, but difficult to untangle the pieces I do want to wear! This summer, I'm ...read more
This Year's Coolest Jumbo Pool Floats
Pool season is almost here! I can't wait to relax, read a book, and sip a cocktail while lazily drifting in an oversized float. (Just kidding, I have two toddlers--but a swim mama can dream, right?). If you've got a staycation planned, check out this year's coolest jumbo pool ...read more
Crystal Clear and Pristine: Pool-Cleaning Tips
Tropical Storm Isaiah gave us quite the midsummer surprise here in the suburbs of New York City. We just got our power back on after a whole week of darkness! With trees down, debris everywhere, and lots of uncertainty, one thing we forgot to check on: our above ground Intex ...read more
Want more tips? You've got to check out the best pillow for zzz's and how to sleep during pregnancy--for our expecting mama friends.
MORE SELF CARE FROM MOMTRENDS
PIN IT!
Use Pinterest to save your favorite ideas from Momtrends. Be sure to follow our Fitness and health board here.
This is not a sponsored post. Tips courtesy of the popular alarm clock app, Sleep Cycle.