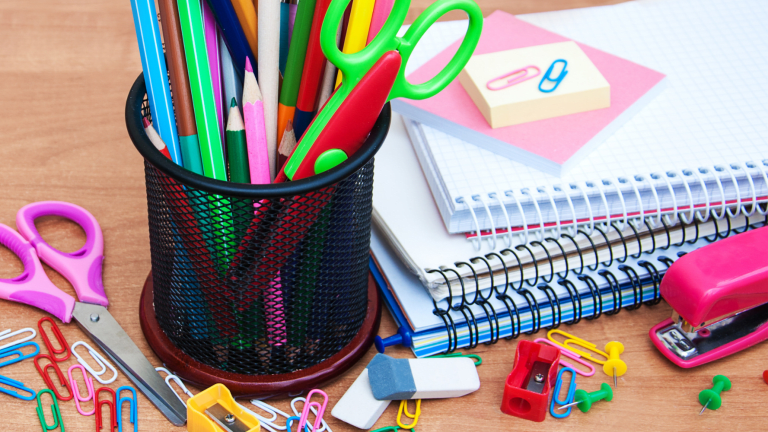 Publish date:
How to Save While Back-to-School Shopping
I used to love shopping for school supplies. As a kid, there was something so special about going to store after store and picking out a new backpack, clean notebooks, and pristine art supplies. 
Of course, nowadays, as a mom, I'm always on the hunt for a hack to make my shopping more streamlined. If I can save time, money and energy--well, that's a triple win. In fact, our PTA partners with a local company to do just this; I just check off a box that says "buy 2nd grade supplies," and a day before classes begin, a box magically arrives with everything my student needs. It maybe costs a few bucks more than if I bought everything on my own, but they kick back money to our school.  
Yes, it eliminates the need to go to stores or hunt around online, but we still go shopping for a first-day-of-school outfit and a new backpack and lunchbox for that bonding experience I remember so fondly.

5 Pretty Ways To Organize Your Jewelry
I admit - I'm guilt. Despite my best efforts, my "jewelry drawer" has become a tangled mess of necklaces, bracelets and earrings. This cluttered collection not only makes it hard to see what I have, but difficult to untangle the pieces I do want to wear! This summer, I'm ...read more
This Year's Coolest Jumbo Pool Floats
Pool season is almost here! I can't wait to relax, read a book, and sip a cocktail while lazily drifting in an oversized float. (Just kidding, I have two toddlers--but a swim mama can dream, right?). If you've got a staycation planned, check out this year's coolest jumbo pool ...read more
Crystal Clear and Pristine: Pool-Cleaning Tips
Tropical Storm Isaiah gave us quite the midsummer surprise here in the suburbs of New York City. We just got our power back on after a whole week of darkness! With trees down, debris everywhere, and lots of uncertainty, one thing we forgot to check on: our above ground Intex ...read more
Want to save time and money shopping for supplies throughout the school year? Here are some tips and tricks for parents to keep in mind:
Student Discount: Take advantage of student discounts to get a certain percentage off your purchase of clothing, electronics and more.
Price Matching: Some retailers will match competitor prices if you are able to find a new, currently available lower price elsewhere. Plus, some retailers will discount the item by an additional 10%!
Apps to Help You Save: Use Flipp to find the best prices in your area. Create your shopping list, share it with your spouse, and you are on your way to saving a lot of money. Flipp is a free shopping app and website that brings circulars, coupons and deals right to your phone so you can plan your weekly shopping trip and save time and money each week.
Buy Now, Use Later: During back to school season, you can typically find great deals on crayons, paint sets and markers. I often stock up on these during back to school season and save them until my kids birthday parties and put them in the kids goody bags that come.
Solo Shopping: Keep the kids at home when school shopping and skip the trendy character patterned notebooks. You will save more money making a list and going without the kids.
Where to Shop: Don't forget about the drug stores like CVS, Walgreens, and Rite Aid. These stores offer very competitive sales as long as you are signed up for their loyalty programs.
Splurge-worthy Items: Parents should splurge on more expensive backpacks and lunch pails. The same lunch pail and backpack can last your child their entire schooling.
Want more from Momtrends?
1. 5 Tips for Over-Scheduled Parents This Busy Back-to-School Season
2. How to Get Your Child Socially Ready for the School Year
3. Inside the Exclusive #MomtrendsSchool Event
This is not a sponsored post. Tips courtesy of Lauren Greutman and Flipp, a free shopping app.