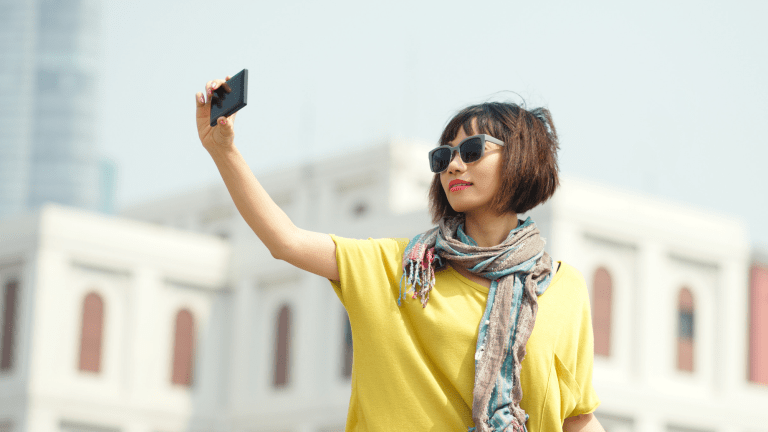 How to Reduce EMF Exposure
Protect yourself in style
How do you spend your day? Whether immersed in email replies, shopping from Instagram, mapping out your next run, reserving a table for two, catching up via video chat or unwinding with a bestseller on your E-reader, you most likely spend your day connected. We are all plugged in, all the time. While it is great that we can have information at our fingertips, I can't help but pause and think, is all this connectivity a good thing? EMF, or Electromagnetic Field, is the output or by-product of the plugged in items we use every day, all day. EMF is emitted from everything from our cell phones to our microwaves to the biggest star in the sky. We know exposure to harmful rays from the sun can be damaging, but what about on a smaller scale? Research has shown that prolonged EMF exposure can be potentially harmful and that the affects can be damaging even when we're exposed to a little bit with great frequency. But we have some tips to reduce EMF exposure as well as some trends to protect yourself in style. 
Top tips to reduce EMF exposure:
Place all devices away from the bedroom/sleeping areas and use "airplane" mode as often as possible. Power down devices and turn off power strips when your electronics are not in use. Use Wifi/bluetooth only when necessary, otherwise switch those functions off to reduce EMF exposure. 
When making a phone call from a cordless or cellular device, choose "speaker" mode, use wired earphones or invest in EMF reducing earbuds.  When you're home, why not go retro and breakout that corded princess phone. We all know everything old is new again!
When using a hand held electronic device, don't place it directly on your body. When working from my laptop, using my Ereader or when my kiddos are using the tablet, we wear EMF reducing covers. Wearing protective shields like this blanket (a must when my children are on a device) this shield for both pregnant and nursing mamas, or this fashionable band for the belly bump. All of the shields use a protective RadiaShield® Fabric to effectively reduce EMF exposure.  Young children, expecting mamas and their unborn children and those with compromised immune systems are especially vulnerable to the effects of EMF exposure. We love the wide variety of EMF shielding accessories and pieces available from Belly Armor. They offer everything from fashionable nursing covers to tanks to soft blankets to protect your newborn.
Take a break from your "wearable". Reduce the amount of time you're exposed by literally disconnecting. 
Stop the emission from your device with innovative EMF reducing device cases, bags, laptop mats and tablet sleeves. You can also purchase EMF absorbing/protection devices that get placed directly on your device like cell phones or baby monitors. 
Work smarter.  How many of us deal with dropped calls or few bars when we're trying to send an important email?  Avoid the frustration and reduce EMF exposure. It is safer to use your phone when your device has a full strength signal so it is not working hard therefore emitting more EMF.  
Use your device wisely.  Set your device to check for emails with less frequency or switch it to "manual" mode so you can regulate and monitor the frequency of receiving or emitting EMF radiation. (The more your device works (downloading, uploading, etc.), the more EMF it will emit.
Store it properly. Bras are not meant to hold your cell phone.  All the more reason to get a fashionable strap, place it away in your bag, purse or backpack. 

This is not a sponsored post.