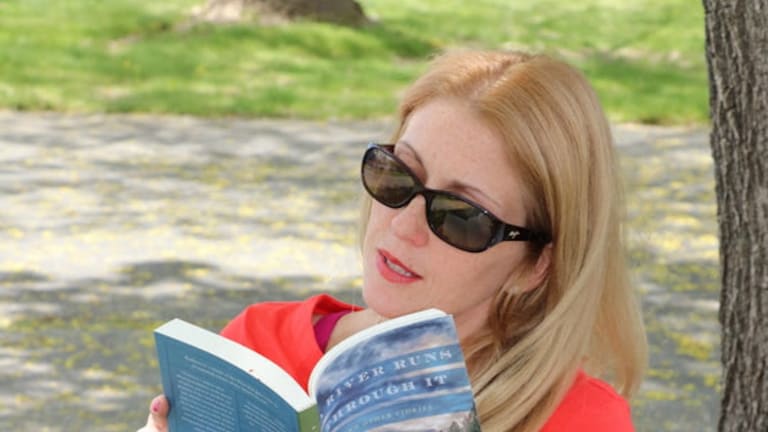 How to Keep Reading
Feed Your Inner Bookworm
You know here at Momtrends we love our books.  We bring you the latest trends in reading, how to host your own "book club" and of course, our latest reading finds via our monthly book chats.  Plus we have shared our tips to keep the kiddos reading . But what about us?  For many of us, our chance to plow through books comes in the summer months.  Glorious days in the sunshine, splayed out with a great read, is one perfect way to spend a summer afternoon, am I right? But we have some tips on how to keep reading as the busy schedules pick back up and life gets kicked into high gear.
PBS has partnered with The Library of Congress to offer a handful of entertaining and educational reading tips to help celebrate The Great American Read's return (Sept. 11 on PBS).  If you hadn't heard, the multi-platform PBS initiative THE GREAT AMERICAN READ has been encouraging people across America to read as many books as possible from its list of America's 100 Favorite Novels and to vote for their favorites.
Here are a few tried and true tips to keep reading daily, and continue way beyond the end of that book on your nightstand.  
Multi-task:  Keep your reading material accessible and with you.  My children are never without a book and they steal a few minutes of reading no matter where they are.  I am taking their lead and making the most of spare minutes sprinkled through the day.  
Reading VS. Social Media: If you have trouble putting down your phone, put a book on it. Read a few pages instead of checking social media.  Try downloading free apps from your public library so you can borrow e-books and audio books.
Take it Outdoors: If the weather is amenable, read outdoors! In the yard, at the bus station, under a tree, or at a museum, reading outdoors engages all of your senses and helps improve your mood.
Reading on the go:
Family time in the car, whether that's commuting to school or going to an activity, is also a great time to listen to an audio book.
If your phone is in "airplane" mode, that's a sure sign that you should be reading a book. Put a book in your carry on – your time in the air and in the airport will be much more rewarding.
 Whenever we visit a new town, we always hunt down their local bookstore (it can be a challenge!) and visit the library.  Speaking to different librarians, different folks can peak your interest in something new.  If it grabs your interest – grab it!
Choosing what to read:
Can't find something new you want to read? Re-read a favorite. You'll be surprised by the new discoveries found in an old favorite.
· Embrace your not-so-guilty pleasures. You don't have to love what everyone reads, or commit to reading a book because it is a "best-seller" or is one of the "greats".  Read what YOU love and just like anything else, you'll stick to it.
 Join reading challenges, such as Reading Without Walls by Gene Luen Yang, the former National Ambassador for Young People's Literature. Also, peruse lists of award-winning books on topics and perspectives that interest you.
Host a book club. Keep it simple and even meet at the library or local cafe so no one feels the stress of hosting. 
Reading with the kids:
Pick a book to read out loud together as a family activity. Take turns reading, or act out the different parts. Use funny voices. Have some fun playing, reading, writing, talking and singing with the young members of your family.
Read your favorite childhood novel to your kids! Your child is never too young or too old to enjoy listening to a book being read out loud. Don't forget to have them read their favorite book to you too!
It's all about choice. The more formats and books your child can choose from, the more likely they are to develop a lifelong love of reading. Show that reading is a part of life by your example, and always give them opportunities to self-select. Respect their choices and, together, enjoy what they enjoy.
Another tip is to read a book together and then watch the movie.  we then discuss which we liked better and why and have a chance to analyze the similarities and differences. 
PBS, with nearly 350 member stations, offers all Americans the opportunity to explore new ideas and new worlds through television and digital content. To learn more about the Great American Read, tune in to PBS on September 11. 
Go on, grab a book and let the adventure begin! 
This is not a sponsored post. Thank you to PBS and the Library of Congress for helping to curate these tips.