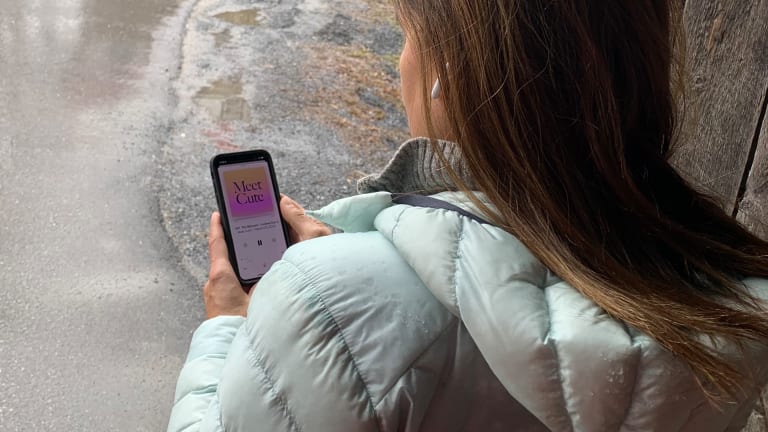 How to Put a Bit of Romance in Your Day
Meet Cute audio stories offer short and sweet love stories that can be consumed in 3-minute segments.
Today was a tough day in the world of social distancing. We are supposed to be in the Bahamas. While I know this is a trivial problem in the face of a global pandemic, it still stings. I'm looking for little things to boost my spirits, like fresh flowers, new recipes and stories, especially love stories. If you are wondering how to put some romantic comedy in your day, try the Meet Cute audio stories.
Related: 5 best book lovers to follow Instagram
Why We Need Meet Cute Right Now
I'm doing the best I can with homeschooling and keeping my two girls positive and well cared for. When my spirits start to plummet, I go for a walk and pop in my headphones. I don't have hours to dive into a long podcast, I need something short and sweet. That's why Meet Cute is perfect for me.
Today as I went on my rainy walk I got swept up in the stories. Meet Cutes are short-form audio rom-coms that take you from Meet Cute to Happily Ever After in 15 minutes. I left a house full of squabbling kiddos and a husband on a conference call. In minutes, I was involved in a love story. 
Meet Cute Short Form Podcast Love Story
So far, I've listened to four stories, my favorite is Meet Cute Presents: Great Expectations. The story is by Reyna Eisenstark and directed, produced, and edited by Erica Huang. The "meet cute" happens in an office setting. The story is all about working around assumptions and keeping and open mind. Each chapter is five minutes long, even the busiest mom can squeeze in an a chapter or two for a quick escape from mom life. 
Other audio stories included an international romance, an awkward start to romance at a digital publisher, and a snow store "meet cute" with a lesbian couple (I love that the stories aren't all heterosexual). 
But the time I finished my stroll, I was ready to go back into super mom mode. All it took was a little time to myself.  Each audio story is cleverly written and the best part you are guaranteed a happy ending. Can't we all use more of those these days!
Where You Can Find the Meet Cute Podcasts
Ready for romance? You can find the audio stories wherever you listen to podcasts.
Follow @MeetCute on Instagram and @ListenMeetCute on Twitter.
More for Booklovers on Momtrends
I'm always, always looking for my next great book and I value recommendations. Here are some recent reviews:
PIN IT!
Use pinterest to save your next book pick and be sure to follow our What to Read board here.  
This is a sponsored post.