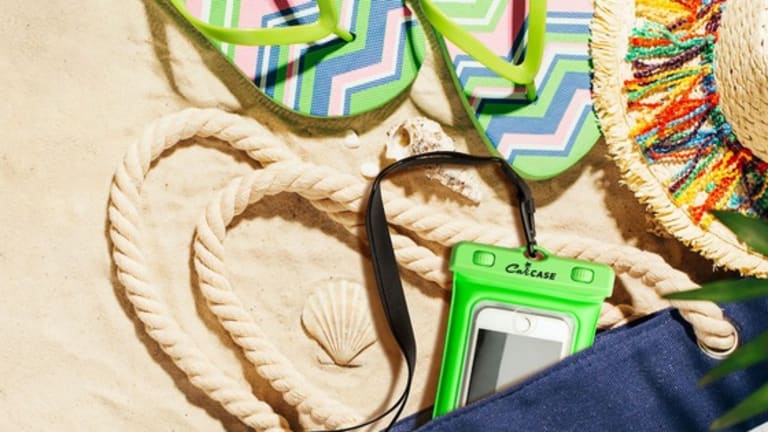 Raise your hand if you are ready to travel again this summer? Do you see my hand waving madly? I'm grateful to be getting back out in the big beautiful world and look forward to lots of beach adventures and trips to hotel pools. Since I bring my phone everywhere, I've been doing research on how to protect my phone from getting wet this summer and I've come up with a great solution called CaliCase. 
Save 20% on your CaliCase with using the code: momtrends
How to Protect Your Phone From Getting Wet This Summer
CaliCase is a waterproof phone case that allows you to capture amazing underwater content using your phones. I love that you can not only protect your phone, but also take amazing photos from the boat or in the pool. Whether you're enjoying a family beach day or taking a video while teaching your little one to swim, CaliCase is for any mom who wants to enjoy some fun outside near the water while keeping her phone protected.
The case comes in two sizes which will accommodate most phones. Pick from more than a dozen colors--and don't forget to get them for the teens too (they make an awesome birthday gift). Each case has a handy carabiner and strap to make them ideal for travel or your everyday trips to the pool.
You might notice that CaliCase is more expensive than other waterproof phone pouches, well that's because it was designed to be more durable and provides additional protection. The CaliCase has 2 layers of PVC protection making it waterproof and a great help in avoiding damage when you drop your phone. And if you're a mom, I KNOW you drop your phone. 

Save Money at a Ski Swap
Are the slopes in your future? If you want to save money on ski gear, consider a ski swap. A swap is a great way to buy and sell used equipment. Most swaps consist of a variety of gear, from brand new to used skis and snowboards to skis; from poles to boots to bindings and ...read more
The Ten Best Wooden Play Kitchens For Kids
Cooking is a timeless fascination for children. This type of play goes beyond gender and teaches kids loads of life skills along the way. An investment in a play kitchen is money well spent, as it can provide hours of entertainment. We've rounded up the ten best wooden play ...read more
New Victory Announces a New Season of Shows
We know you're busy planning picnics and summer outings, but we wanted to let you know that The New Victory just announced their new season and it looks fantastic. We thought you'd like a sneak peek of what's in store! Each year the New Vic theater brings culture to tourists and ...read more
Testing CaliCase
I brought my new durable waterproof CaliCase to the Emerson Resort in the Catskills this weekend. Using the case is easy: Simply undo the latches, drop your phone in (make sure to unlock your phone for easiest access) and redo the latches. I was able to tuck everything I needed for my spa day right into the case (room key and phone). And more good news: All CaliCase waterproof pouches float except for the clear color CaliCase which does not float.
The pouch allows you to capture beautiful underwater content and helps bring your vacation memories to life. That's right, you can use the case not only to protect your phone, but to capture images under water. I can't wait to test this feature over Memorial Day once our pool opens. 
Save 20% on your CaliCase with using the code: momtrends
Win it!
To get you ready for summer we have a special giveaway. We will be giving away 20 CaliCases to 20 lucky winners!* Use Rafflecopter to enter to win.
*By entering this giveaway you will be placed on the Momtrends Giveaway email list and added to the CaliCase list. You may unsubscribe at any time. This is a sponsored post. For full rules, see details on the Rafflecopter link.