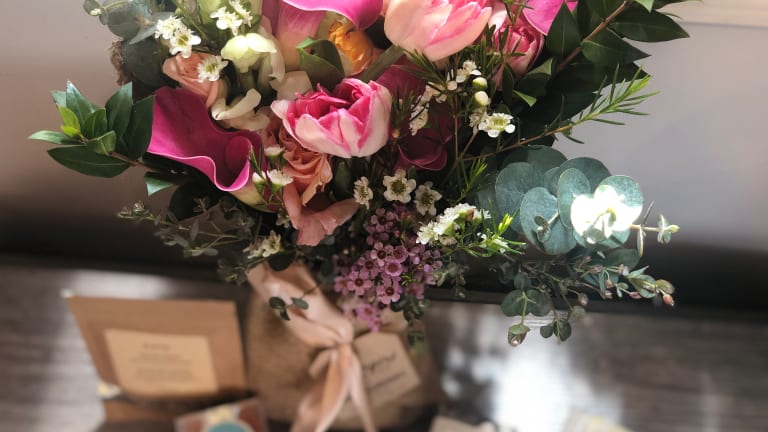 How to Properly Care for Flowers and Prolong a Bouquet's Life
I love having fresh flowers throughout my home. They brighten up every room, bringing a pop of color, some much-needed sunshine and a hint of fragrance.
I make a trip to Trader Joe's weekly to pick up a few affordable bouquets of beautiful blooms. And while I heart my TJ's arrangements, nothing makes me smile like a delivery of gorgeous professionally arranged flowers.
When my daughter was born a few weeks ago, I got the greatest gift from the Momtrends' team: a gorgeous collection from Farmgirl Flowers. In addition to a charming bouquet of wild flowers, the package was chock-full of sweet surprises and little luxuries: Sugarfina gummies, rosé lip balm, bath bombs, candles, and other delights. Suffice to say: it made this tired new mama feel happily spoiled! 
But, really, the flowers were the show-stopper in this assortment of prizes. I transferred them from their pretty rustic packaging to my favorite vase, but not before reading Farmgirl's top tips for preserving and presenting wild-flower arrangements. 
I'm sharing their expert advice for prolonging bouquets.
Fresh Cut: Start a bouquet off with a fresh start with a quick trim. Use a pair of scissors, kitchen shears, or a sharp knife and trim at least 1/2 inch off each stem. Aim for a 45-degree angle. This provides more surface area for the flower to absorb from and prevents the stems from sitting at the bottom of a vase where bacteria builds up.
Water: Shipped flowers have traveled a long way and are thirsty for H20 stat. Fill a vase with cool tap water. Change the water daily, if possible, and remove individual flowers as they expire to reduce the growth of bacteria.
Keep It Cool: Help your bouquet look its best by keeping them out of direct sunlight and extreme heat. Cut flowers don't require sunshine or heat--in fact both will shorten their lifespan. So keep bouquets in a cool, shady spot.
Next Read: 3 Ways to Use Garden Flowers In Your Home
This is not a sponsored post.