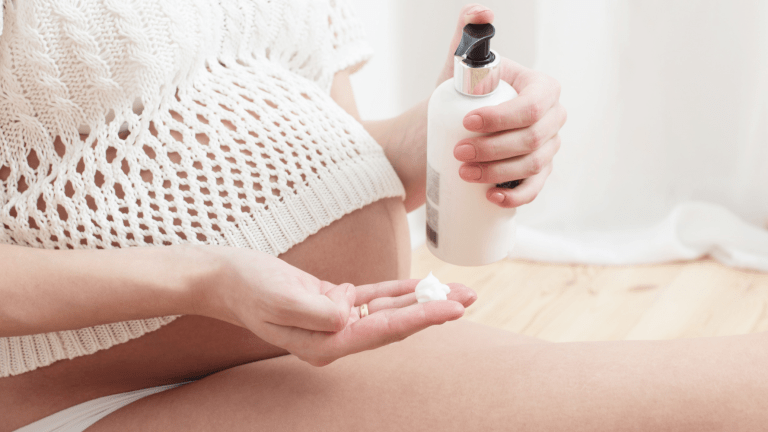 How to Prevent Stretch Marks in Pregnancy
Keep Your Body's Skin Supple and Smooth
Oh, pregnancy... You are full of delights and surprises. Morning sickness, extreme exhaustion, aches, pains, and, oh yeah, the gift that keeps on giving: stretch marks. 
I was fortunate enough to ward off those not-so attractive lines in my first two pregnancies; and if I'm being totally honest, I'll admit I didn't do much in the way of prevention. The youthful elasticity of my skin worked wonders all on its own... But, now, well into my thirties and my third pregnancy, I'm not taking any chances! Mama is all about being proactive. Lemme keep this belly and booty smooth and supple. 
There are tons of supposedly magical stretch mark creams, lotions, and potions on the market, though, and it's hard to decipher which ones will be the most effective and safest for your changing body. I've done my due diligence (and, yes, even tried a few duds) to find a selection I feel comfortable recommending. No super strong smells, no super sketchy ingredients, and no worries for you stretching skin and burgeoning belly.
1. Burts Bees Mama Bee - I love the way this rich, buttery cream, loaded with Vitamin E and shea butter, glides on my skin. It's gentle and leaves my skin feeling soft and smooth. I use it all over my body as an intensive winter moisturizer.
2. Coco & Co. Pure Coconut Oil - I love the versatility of coconut oil. You can use it on your face, body, hair, cook with it, or blend it into smoothie--yum! This high grade, organic extra virgin coconut oil rich in vitamin E and essential fatty acids. It can eliminate blemishes and dark spots on face, wrinkles, age spots and stretch marks. And, hey, you'll smell like the most delicious tropical cocktail.
3. Neutrogena Sesame Body Oil - My dermatologist told me this is her stretch-mark secret. If it's good enough for a professional, then I'll take it! Delicately light, this oil instantly absorbs into the skin, locking in moisture. 
4. Bio-Oil - I love a good multipurpose versatile skincare product! Clinically proven and dermatologist recommended for use in the second trimeter and beyond to prevent stretch marks, Bio-Oil also can also improve the appearance of uneven skin tone and dry and aging skin without clogging pores. It can reduce the appearance of scars too, making it a medicine cabinet must--pregnant or not.
5. KORA Noni Body Glow Oil - This luxurious, lightweight, multipurpose body treatment oil combines powerful organic Noni extract, rosehip and sunflower seed oils to deliver soothing nourishment and hydration. Fast absorbing without the greasy after feel, it supports healthy cell rejuvenation to minimize the appearance of stretch marks and skin imperfections.
6. Clarins Stretch Mark Minimizer - Try though we may, stretch marks may still happen. This highly targeted treatment helps reduce the appearance of stretch marks—leaving the skin smooth, supple, and healthy-looking. 
Check out more of our favorite pregnancy-safe beauty and skincare products.
This is not a sponsored post. It may contain affiliate links.