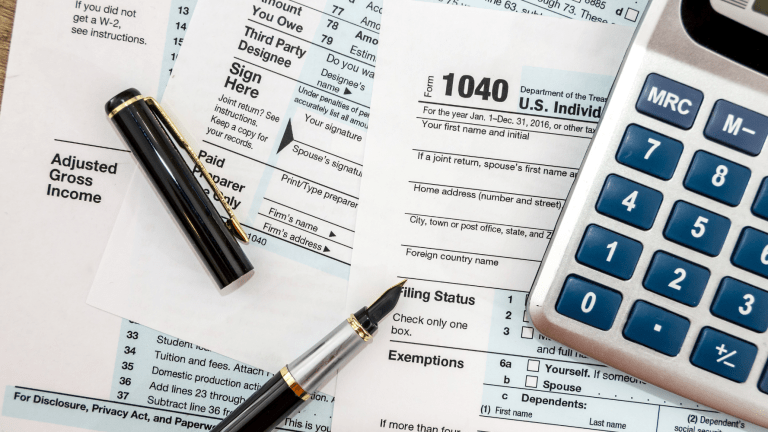 How to Prepare Yourself for Tax Day
Last-Second Filers, This One's for You...tax tips for moms who are getting organized for tax season.
Considering all the tasks a mom has to do, it may not be surprising that according to a survey of 1,000 moms commissioned by H&R Block, 2 in 5 mothers feel overwhelmed during tax season.
Related: Tax Day Stress Relief
In fact, one-third of moms surveyed would rather watch their child's favorite show on repeat for a week if it meant not having to prepare their tax return. (Let's do this, Mickey.)
When it comes to the process of filing taxes, 34% of moms consider potentially owing money on their tax return as their largest source of anxiety. Second was gathering the necessary documents. And considering Tax Day is approaching quickly, procrastinating parents (and non-parents) are feeling the pressure.
Luckily, we have some helpful tips and preparatory plans to get you organized, thanks to Lynn Ebel, director at The Tax Institute at H&R Block. So take a deep breath and get out a pen paper to take some notes, it's time to file away your worries and file your taxes.
What nugget of advice do you have for procrastinating parents who haven't yet addressed filing their taxes?
Most moms, if they haven't filed yet, they face the possibility of having to owe money. We want to make it as easy as possible for these moms if you go to HRBlock.com/checklist, you can print off a customized checklist of all the documentation you'd need to prepare online or do yourself or bring into an office. But don't forget you also need to bring in your info that is not on a tax document, such as your child's social security number or the EIN for a daycare.
Okay, so step one is...
If you haven't done anything yet, look though your mail or log into things online. Your employer should have made your W2 accessible. You'll need your 1099; a mortgage interest statement—that would be from a 1098. If your children are in college you'd have a 1098T—anything like that from the IRS that you get a copy of, they'll want to see on your tax return. It's about having that documentation. And if you're only thinking about taxes this one time out of the year, make sure you do it in a way that'll benefit you the most. Bring in your last couple of tax returns. It's possible there was something missed in a previous year that you can claim a refund for. Also look forward. If you don't like what happens this year, then you'll want to make sure you work with a tax professional to plan for next year.
Any particular benefit parents should make sure they're taking advantage of?
The child tax credit – it doubled from $1000 to $2000. The refundable amount increased--even if you don't have a tax liability, you'll get a check from the IRS; and more people are able to claim it this year. Last year, if you had a married joint filing tax return you were fazed out if you had a $110,000 worth of income. But, this year, it went up to $400,000--so more people are able to claim it; and that will hopefully be a pleasant surprise for parents this tax season.
There are lots of reports that people are displeased with their tax return this year compared to previous filings. How can parents (and people in general) know what to expect?
Certainly with tax reform, you're not going to be able to compare it to last year. There are lots of changes—the standard deduction doubled, the child tax credit, of course, increased. But if you're itemizing you expenses, you'll see some deductions that seem limited or totally eliminated--so it's hard to tell if you're going to come out ahead or not. Ninety-six percent of Americans use [professional help when filing. This is a good year to talk to someone and make sure you're getting all the help you need. I'm proud of our company. We offer more options and choices for busy moms—online, where you can chat with a tax professional—or, you can just have someone review it for accuracy. You can go  into our offices, you can do drop-off, or have it approved online. We have a whole gamut of options.
Looking forward to 2020 taxes, what should procrastinators do now to get ahead of the game? 
My top piece of advice is to prepare for it. Last year the W4 adjustments were made in February—that's 10 months worth of changes. This year, it's for the entire year—12 months of changes. If you're not planning for it, and you don't like what happened for your refund last year, it'll be even more dramatic. So plan. We try to make it as easy as possible for you. We have a free W4 planning session to look ahead. 
More Money Advice from Momtrends
PIN IT!
Use pinterest to save your favorite money tips. For more money tips be sure to follow Money Tips for Moms board here. 
This is not a sponsored post.