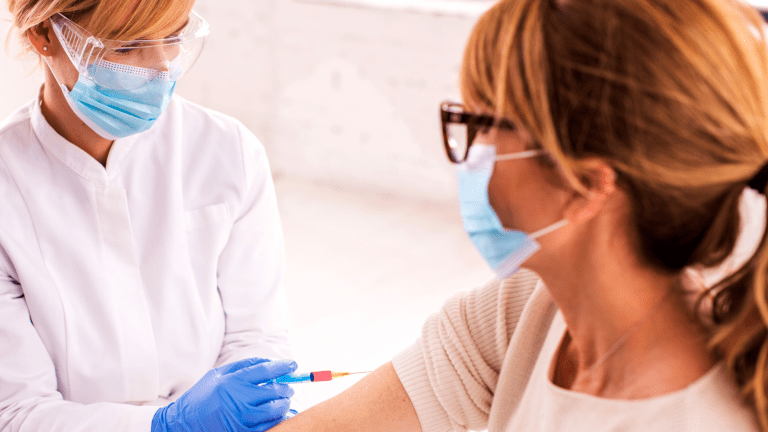 How to Prepare for the COVID Vaccine
6 tips to help you feel your best for your big date with a needle!
Congrats! Your turn is finally up, and your appointment is in the books. Who knew that the big braggable event of 2021 would be your first (and second!) COVID-19 vaccination. 
It feels like we've all collectively and individually been waiting for this moment. It's a veritable sigh of relief to feel the plunge of a needle in your arm -- a weight off your shoulders (well, you know, after the post-shot arm pain goes away!). 
In some ways the lead up to your scheduled appointment feels more nerve-wracking than ever -- you're so eager to get to this finish line, and you want to be healthy, happy, and fully prepped for the event. To that end, there are a few things you can do to help physically and mentally get ready for the occasion. 
The most important step is showing up for your shot. But here are a few other ways to prime your body and mind in the meantime.
Try to get some sleep
You might be too excited --or nervous -- to rest the night before your appointment, but try to relax and get some quality Zzz's. (And certainly don't pull an all-nighter on purpose.) Sleep is healing, and it helps to give your immune system an edge. As noted by WebMD, previous research has found that there is a positive correlation between more sleep and enhanced vaccination response. 
Eat a healthy meal
You may have butterflies in your stomach before your shot, but you should also get food in that belly -- preferably a healthy nourishing meal. While getting vitamins and minerals regularly can help your immune system, one kale-heavy dish hours before your appointment probably won't make or break your vaccination response.
Still, you don't want to skip a meal in anticipation of the event. Nerves can make you feel dizzy, and low-blood sugar can add fuel to the fainting fire. With this in mind, go with a meal that will stabilize your blood sugar: veggies, a lean protein, and fibrous carbs like fruit. 
Prioritize hydration 
Make sure you are getting plenty of liquids the day of your vaccine -- and afterwards. If you do end up with some unpleasant side effects, being sufficiently hydrated will take the edge off and reduce the intensity of symptoms.
Be active -- in moderation
Moderate exercise can also boost your immune system -- so try to get a little workout in before your vaccination. Don't go crazy -- and don't do anything you're not accustomed to. 
As explained by VeryWell Health, some research has shown that regular exercise can help -- as do "acute bouts" of movement. What's more, getting in some activity beforehand can help reduce any side effects. Exercising after your shot is also considered safe, but experts suggest listening to your body and following its cues. If you don't feel up to it, take it easy!
Avoid some triggers
Avoid taking pain relievers like Acetaminophen or Ibuprofen in anticipation of your vaccine, as advised by the CDC. While there's no definitive proof, experts question whether these drugs -- taken prophylactically -- could quell your antibody response. There are exceptions to this guidance, of course, so don't hesitate to reach out to your doctor with questions  And if you have side effects after your shot, doctors say it's fine to take Tylenol or Advil.
Another thing you might want to steer clear of? Alcohol. While a glass of wine to toast your vaccination is probably fine, some advise waiting at least 24 hours after your appointment. Even a small amount of alcohol can be dehydrating, and you could end up exacerbating side effects. Moreover, you certainly don't want to drink a lot before or after your vaccine; heavy consumption can take a hit on your immune system.
Schedule in some rest time
Make sure you have a plan in place to get some rest after your appointment -- particularly if it's your second round of the Pfizer or Moderna vaccine (if you're getting the J&J shot, it's only one dose). You may be tired and achy the next day; if you're able to have flexibility in your schedule -- just in case -- prepare to lay low.
Remember that these vaccines are incredibly effective -- so, while it's great to do whatever you can to help boost your response a bit, just going to get the shot in your arm is a huge win! Good luck!
Want more from Momtrends?