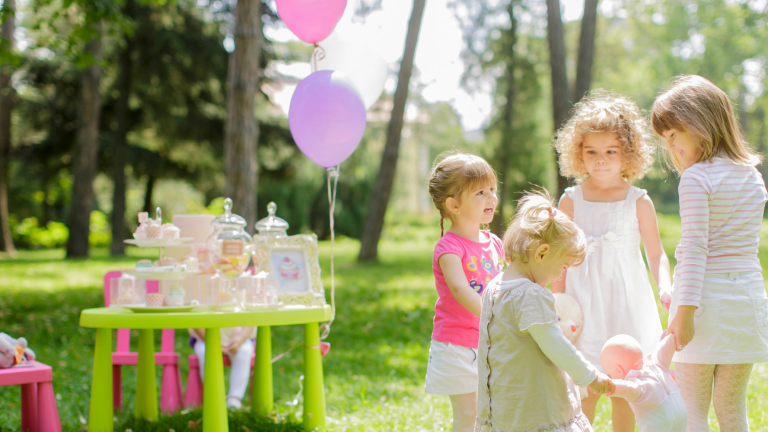 Publish date:
How to Plan a Kids' Birthday Party on a Budget
f you haven't already heard, the trending theme for kid's birthday parties in 2019 is the "fiver". I can guarantee by the end of this year, you'll be invited to one of these. The idea is that instead of bringing a gift, you bring $5 that goes towards a bigger gift that the guest of honor really wants. With larger guest lists, the fiver party can even be turned into a 50/50 party, where half of the money goes towards a gift and the other half is donated to a charity.
Throwing an elaborate birthday party can bring a lot of stress to parents who are busy and tight on budget. With the mission to help busy parents create unforgettable parties for their kids, Partify is the first platform that enables you to easily find, book, and purchase everything you need for your child's perfect day. 
Along with the idea of throwing a "fiver" birthday party, Partify has collected a few inexpensive party ideas which will help you save money while making your kids' party memorable.
Tip #1: Have the Party at Home. It's inexpensive and intimate. The kids can interact with each other more closely within a limited space.
Tip #2: Send Out Carefully Designed Email Invitations to ONLY A FEW. If you're having the party at home, invite a few of your kids' closest friends who have similar hobbies.
Tip #3: Pick the Best Theme. Choosing a theme will actually make your planning process a little easier because other things such as food, decorations, and entertainment can revolve around it.
Tip #4: Buy One & DIY the Rest. After you pick a theme, decorations will follow. A simple and cheap party decorating idea is buying one thing or one set of things to make an impression while DIY the rest.
Tip #5: Make Easy Snacks. A common way to stay on budget is to invite people between meals (4-5 p.m.) and just prepare snacks.
Tip #6: Upgrade Your Kid's Hobbies & Include Everyone. Just like decorations, think of one activity that's fun for everyone.

Get Ready for Summer Tea Collection Sale
Even if we all have to stay local, summer is going strong. As you head to the pool or day camp you might have noticed your kids GREW during the past year. Just in time for summer, Tea Collection is rolling out a big deal on swimwear and graphic tees for kids. I've enlisted some ...read more
The Key to a Great Overnight Oat Recipe
Working moms know the importance of meal planning. I'm getting ready for busy few weeks and I've been perfecting my fast breakfast options. I've been using Bob's Redmill Organic Steel Cut Oats to prepare my overnight oats for a nice, cold breakfast in the morning and I'm going to ...read more
Morning Sickness Relief with Sea-Band Mama
While pregnancy is this amazing and beautiful time in a women's life, it is also one that can wreak havoc on the body. From morning sickness to discomfort to cravings, the body that you once knew so well becomes this vessel for your baby. Of course, this is all worth it but ...read more
Want more birthday party inspiration? Check out: this awesome jungle-themed party, our ice-cream social birthday event, and our popular dino-mite dinosaur birthday party.
This is not a sponsored post. Tips and copy courtesy of Partify.