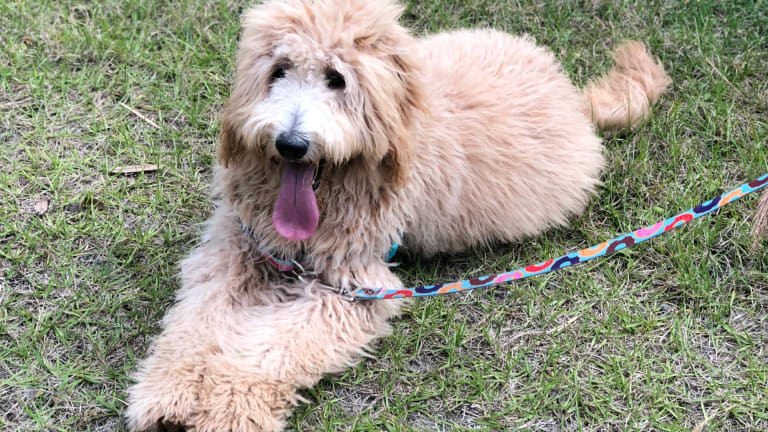 How to Pick the Perfect Dog for Your Family
Getting a dog is a big decision and you want to pick the right one for your family. These tips for how to pick the perfect dog should help!
When the hubs and I seriously starting considering granting our kiddos' wish for a dog, we didn't come to the decision without a good amount of deliberation. And once we decided that we could handle all the responsibility that comes with being a dog owner, we set about researching different types of dogs. Unfortunately, our son is allergic to most breeds so we had to find one that wouldn't aggravate his allergies. And our vet thought that a puppy would be less intimidating to our beloved cat rescues than a full grown dog, so we settled on a Goldendoodle puppy thanks to their allergy friendly fur.
Now for your family there might be other criteria that you need to consider. So, I connected with Rover.com's professional dog trainer and pet lifestyle expert, Nicole Ellis, for her thoughts on how to pick the perfect dog for your family. Because while we can't imagine life without our pup now, it was important that we were fully ready for the lifestyle change. So, I suggest you settle in and take a look at Nicole's tips below while you mull over this momentous decision!
"The type of puppy that your family chooses should ultimately match your family's lifestyle and what you're looking for in a furry family member. Families looking for a pet to add to the home should first consider what type of lifestyle they lead. Do you have a ton of yard space, or are you confined to a city apartment? Will someone be home to look after a pup most of the day, or are the members of your crew in and out the door all day? Regardless of your lifestyle, there is a type of dog perfect for your home. 
How to Pick the Perfect Dog for Your Family
I recommend the following options based on your day-to-day routines:

If you're an outdoorsy family, a bigger dog will have a better chance of keeping up with you. You'll want an energetic pup to run alongside you, hike with you, and match your motivation. Good options of active breed include retrievers, malinois, and shepherds. Boston terriers are great dogs for energetic types – they are not a good choice for a couch potato family. They love going to new places and meeting people, and they are rarely timid in new situations.
If your family is less active but still in need of a loyal family furry friend, the size of the dog matters a bit less. You should focus more on the breed and the dog's disposition. You'll want a friendly dog who is social, plays well with others, and will love all the attention you're ready to give. French bulldogs are a perfect example of the type of dog who would thrive in this type of environment. While Frenchies aren't a lazy breed, daily playtime and short walks should meet their exercise needs. Affenpinschers are absolutely adorable, fun, and playful while not requiring too much exercise. A nice game of indoor fetch or scent work will fulfill their exercise needs for the day.
If your family is out more often than home, consider a senior pet that has less energy and will be happy hanging out in their dog bed while you're busy working. Options include chihuahuas and poodle mixes as well as pitbulls who are calm and relaxed. Chihuahuas are don't require an immense amount of attention or exercise and are also happy to join you on your outings. Pugs do very well with busy families as they don't need a ton of exercise but have sweet dispositions and are glad to sit on your lap and relax with you when you get home.
If your family has a little space in the city, you may think your options are limited to smaller pups. Little dogs can work well in apartments if your family leads a busy lifestyle, but don't count out large dogs to be your newest addition! Large dogs can sometimes be perfect for city living, contrary to popular belief. Breeds like mastiffs and pitbull mixes are great for city and apartment living. For example, Basset hounds are by no means small dogs, usually weighing in around 50-70lbs, but they are happy being in a smaller home by your side. While they may take up your entire apartment Great Danes can also be amazing apartment pets. The name "gentle giant" is super fitting with this breed whose calm demeanor makes them perfect for small space living."
Now that you know how to pick the perfect dog for your family, you may also ant to check out these tips for how to teach kids dog safety. And when you do bring your furry friend home, you might want to whip them up some homemade dog biscuits!
MORE PUPPY LOVE FROM MOMTRENDS
PIN IT!
Use Pinterest to save your favorite pet tips and be sure to follow our Puppy Love board here.
We were not paid for this post. Thank you to Nicole Ellis from Rover.com.