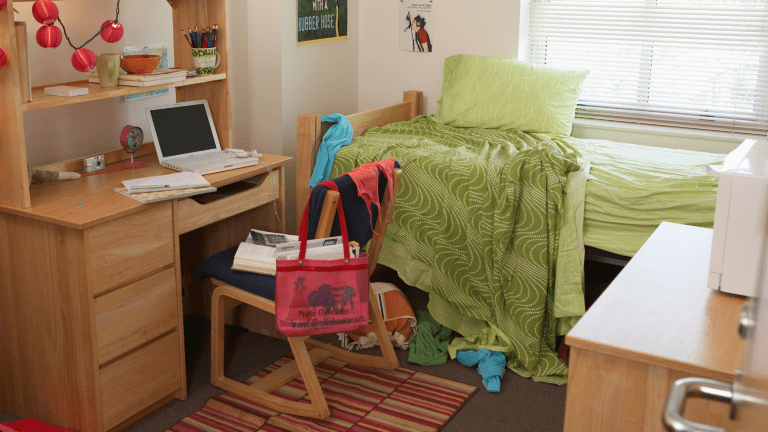 How to Organize a Small Dorm Room into a Productive Living Space
My freshman-year dorm room was classified as a "split double." In other words, it was a tiny room with a wall that divided it in half 3/4 of the way. My roommate and I each put a shower curtain up to separate the small portion of the room that was open. Suffice to say, we had different tastes. My side was all pink and girlie; hers was a little more, well, goth. Decor differences aside, we each tried to make the most of our room halves with functional furniture and smart storage solutions.
The average dorm room at an American college is less than 130 square feet, and often that's in total as a shared space between two students. That's not a huge footprint in which to study, sleep and generally engage in the business of living and learning.
In addition, you don't get much with a standard dorm room: a bed, a desk and a closet. That's about it! Clutter, however, is the enemy. It will make a small space look even smaller and you'll never be able to find what you're looking for when you need it.
Making use of the available space and amenities to the best possible advantage requires a little thought and a lot of organization.
Here are 6 tips for organizing a college dorm room to be a happy living space:
Make use of vertical space! Typically, the walls are bare, so get a wall organizer for desk essentials like pens, pencils, highlighters and so on. It keeps everything handy, but off the limited desk space that you need for your computer and books. Another great option is floating shelves: you can use these for everything from books to coffee cups and they look great too! And for lighting? Try clip lamps. They don't need a flat surface to be put in place and can be moved around, as needs be.
If you're not allowed to alter much in the room, simple additions like stackable clear plastic bins are great for inside your closet or if you have a closet shelf: you can still see what's inside but can keep smaller items, like scarves or socks off the floor. Add a shoe holder to the inside of your closet door for even more spots to put odds and ends, including snacks and extra shampoo! Hanging closet organizers are also a great addition if you've basically got a closet with a rod and little else.
Keeping all your notes and papers organized in a rolling file cart. You can color code your file folders by subject and move the cart, as needed. So if you're studying on your bed just roll all your files alongside. And if you're having a dorm room gathering of friends, you can roll it out of the way under your desk. Easy and tidy!
If you have a little extra space for some furniture, make sure that whatever you bring in is pulling double duty. So a bench for visiting friends to sit on is even better if the top flips up and reveals a storage area inside for bedding or cushions.
Maximize your use of otherwise dead spaces. The corner closet that has only a rod across the top and nothing else, for example, is difficult to use as it is. However, the single rod probably leaves you with space towards the floor, unless you're hanging a lot of pants or dresses. Make use of that dead space by adding some shelving, or roll in drawer sets, to put shirts, socks and other smaller items away. Add some removable hooks to make it a functional space for hanging hats and bags, without altering it dramatically. Also, don't forget under the bed! Storage boxes or bags will fit and be a great spot for out of season items or sporting equipment.
Depending on the type of desk you have, add a hutch to it, and you make use of vertical space while keeping all necessities close at hand! You'll be glad to have access to what you need, including that all important coffee maker, without even having to reach. College is a unique experience for many, not the least of which is the living quarters. Finding ways to make it more organized, less cluttered and with a few creature comforts from home is the key to a good year!
Want more? Check out these 10 Dorm Move-In Tips and the Best Summer Activities for Teen Resumes.
This is not a sponsored post. Tips courtesy of Marty asher and ModularClosets.com.